Cherry Blossoms are just so magical. There's nothing quite like being surrounded by an ethereal cloud of these pink and white flowers!
Cherry blossoms are Japan's unofficial national flower. These exquisite flowering trees bloom in spring, and they symbolize hope and renewal, as well as the fleeing nature of life (due to their short life span).
You can find these lovely trees blossoming in cities throughout the United States. Many of the trees were grafted from the original trees planted in Washington, D.C., while others were planted through cooperation with Japanese American groups and / or through Japanese and American sister city partnerships.
Here are the best places to see cherry blossoms and when to see them in 2022 in the USA: 
The National Mall: Washington, D.C. 
It's said that more than 1.5 million visitors descend upon our nation's capital to gaze at the 3000-plus trees at this three-week-long National Cherry Blossom Festival. The festival grew from simple origins with the simple planting of two trees gifted by Tokyo in DC's West Potomac Park in March 1912. In the present day, the cherry blossoms trees are rooted around the Tidal Basin reservoir and the festival has grown to include coinciding events throughout DC with restaurants, bars and even neighborhoods getting pinkish with special offerings.
Balboa Park: San Diego, California
Not only does San Diego have beaches and rugged coastlines, but the city also contains cherry blossoms; in particular, the trees are found in Balboa Park's Japanese Friendship Garden.
Wooster Square: New Haven, Connecticut 
The city's Wooster Square is the site of the annual Cherry Blossom Festival that happens every April and welcomes the blooming of the square's Yoshino Japanese cherry blossoms.
Brooklyn Botanic Garden? Brooklyn, New York 
The cherry blossoms at the Brooklyn Botanic Garden usually appear from mid-March to late April. In timing with this season, the Brooklyn Botanical Garden puts on Sakura Matsuri, a weekend festival held each spring that not only celebrates these blossoms but also honors Japanese culture through music, dance, food and art.
Dallas Arboretum and Botanical Garden: Dallas, Texas 
The Dallas Arboretum and Botanical Garden's 150 cherry blossom trees get their moment during "Dallas Blooms", a six-week celebration from late February through early April. This year's theme of "Sounds of Spring" will have this Dallas attraction adorned with six musical instrument topiaries. The programming also incorporates tastings and cooking classes, book signings and speakers and Easter-related events.
Fairmount Park: Philadelphia, Pennsylvania
Planted in 1926, as a gift from the people of Japan, Fairmount Park has a forest of Sakura – a specific type of flowering Japanese cherry tree – which takes center stage at the Subaru Cherry Blossom Festival of Greater Philadelphia. This early April weekend event incorporates origami sessions, sushi-making classes and drumming performances along with the Cherry Blossom 5K and 10K races happening the following weekend.
Japanese Garden at Delaware Park: Buffalo, New York 
A gift from the Sister City of Kanazawa, the Japanese Garden at Delaware Park has cherry blossoms that come out later than the ones found in DC but nonetheless shine during the Buffalo Cherry Blossom Festival. Along with self-guided walks, attendees can check out drum demonstrations, presentations on Japanese culture at the Buffalo History Museum and pink boat rides on the park's Mirror Lake.
The Cumberland River Greenway: Nashville, Tennessee
During the Nashville Cherry Blossom Festival, a Cherry Blossom Walk features a 2.5-mile course along these areas begins and ends at Nashville Public Square and follows the Cumberland River Greenway. The one-day festival on April 9th., celebrates both spring and Japanese culture with programming on the front lawn of the Metro Courthouse at Public Square Park. Its schedule features traditional and contemporary Japanese music and dance, martial arts demonstrations, a Pups in Pink Parade, and a variety of Japanese cuisine and special Japanese-inspired Festival menus.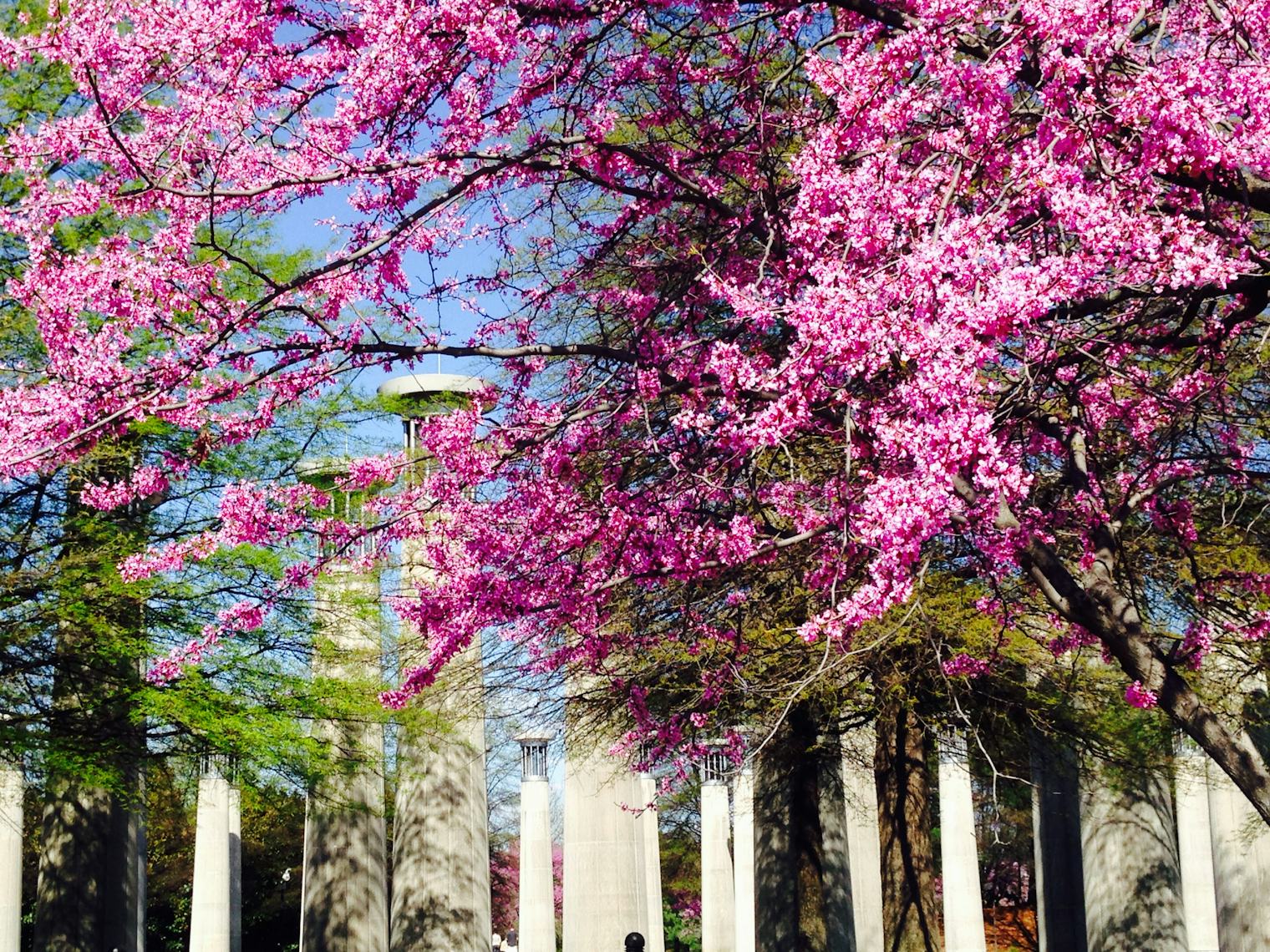 Marianna Jackson