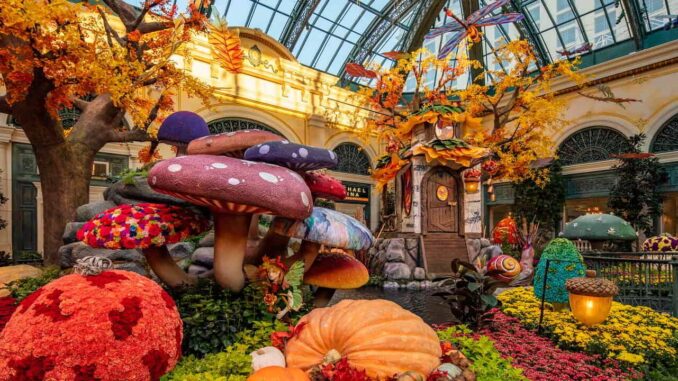 Las Vegas, NV. Each season the Bellagio Botanical Garden's team transform the 14,000-square-foot Botanical Garden into a showcase of inspiring sights, sounds, scents and colors. Spring, Summer, Fall and Winter are all featured—along with a special display for Lunar New Year. When the seasons change so do the displays. The talented Conservatory team changes out the design and also replants and repurposes as much of the living plant material as possible, further celebrating Mother Nature and our commitment to sustainability.
We visited the Garden's autumn display. It transports guests "Deeper Into the Woods" for an enchanting journey through a magical forest filled with playful woodland creatures and one-of-a-kind artistic floral arrangements.
Upon entering the Bellagio Conservatory, guests are instantly immersed into the heart of a forest featuring bright-colored floral mushroom topiaries, towering ginkgo trees, festive foliage and whimsical dragonflies dancing overhead.
As guests embark on their journey Deeper Into the Woods, a fairytale-like adventure inspires transformation and reflection at each turn. The Garden's fall display is designed to be a fully immersive experience through delightful visuals, scents and sounds that give guests the familiar warm and cozy autumn feeling.
Check out this beautiful video of the Garden: 
Marianna Jackson