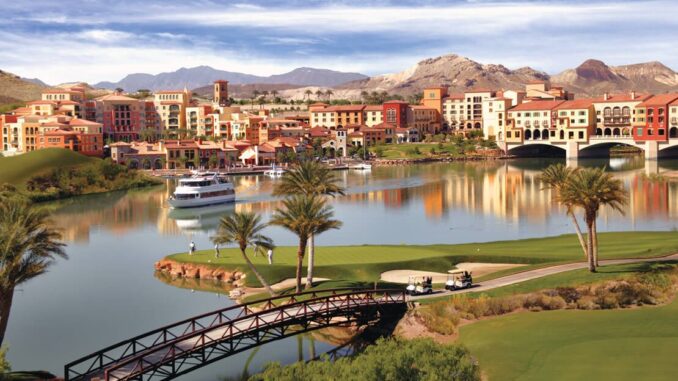 Beautiful outdoor scenery, an Italian style village, and lake front resorts are not typically what one thinks of when picturing Las Vegas. However, that is exactly what is to be found only 20 miles from the famous Las Vegas Strip, where desert, lights, and gambling convert into a scenic, quiet retreat. The main attraction is the man-made Lake Las Vegas, located in the City of Henderson, Nevada. Lake Las Vegas in Henderson, Nevada is sometimes referred to as the Lake Las Vegas Resort. It is being developed by 5 companies.  The area includes three resorts and surrounded by a beautiful Lake.
An idea 40 some years in the making, this man-made, luxury, nature retreat has struggled to come to fruition. Unfortunately, though a great resort and vacation spot, to this day there seem to be problems keeping the whole project afloat. Regardless, the story of the birth of this vision is worth relating. Though some will continue to remain skeptical, the limited success the lake has experienced after overcoming so many obstacles instills confidence for its future prospects.
The Las Vegas Lake sits on an area of the Las Vegas Wash which runs under the lake through two massive pipes. The Wash is a 12 mile long channel of water that flows from the valley, through the City of Henderson where it picks up all the waste water, and then goes on to unite with Lake Mead in southeastern Nevada two miles from the Las Vegas Lake. Through clever engineering design, Lake Mead feeds Lake Las Vegas a continuous supply of water.
There are some shops and restaurants open and most locals and visitors alike agree that they enjoy the beautiful scenery, the quiet, serene environment, and the unique experience of staying at Lake Las Vegas.
Check out our short video of the beautiful Lake Las Vegas:
Marianna Jackson