Located on the coast of Connecticut, New Haven often draws visitors to Yale, America's third-oldest university. Aside from this well-known higher-education site, there are a number of historical, unique and fun attractions in this coastal city to keep all types entertained.
Founded in 1638, New Haven, Connecticut is rich in history of innovation and artistry. The Elm City is the first planned city in America built on a grid system and is best explored on foot through a network of pedestrian-friendly streets.
Yale University
New Haven is presidential in its own right. Yale University is one of America's most prestigious and oldest universities, founded in 1901, and has seen presidents from Gerald Ford to Bill Clinton and George W. Bush through its doors. Take a campus tour and you just may see the next president on campus. Then, attend a game at the historic Yale Bowl, known to have crowds of up to 70,000. Start your visit at the Yale Visitor Centre, in John Pierpont House, the oldest private home in New Haven. Tours last approximately one hour and are led by students who will provide insight into campus life, details on Yale's 300-year history, and possibly even reveal information about its notorious secret societies, like the Skull and Bones.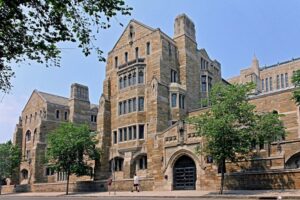 Yale Peabody Museum of Natural History
Popular amongst families, the most impressive of the permanent collection must be the Great Hall of Dinosaurs. Watched over by the museum's largest skeleton, the towering Brontosaurus, visitors can admire the impressive 47m "Age of Reptiles" mural, finished in 1947. Yale's Egyptology collection, with the "Daily life in Ancient Egypt" gallery, is housed here. It features a fascinating mummy, resting in a decorated, inscribed tomb, and the granite head of Osiris. Another favorite is the Discovery Room, full of touchable specimens and hands-on exhibits. The museum is open daily except Mondays and is free to under 18s.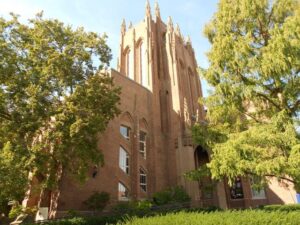 Beinecke Rare Book & Manuscript Library
Holding one of the world's largest and richest collections of rare books and manuscripts, Beinecke Library includes ancient manuscripts, writings on papyrus, maps, the personal papers of writers, and archival materials. The library's best-known treasure is a Gutenberg Bible, the first Western book printed from movable type. It is permanently on display, along with John James Audubon's Birds of America and a collection of the earliest printed books in the West, from before 1500.
East Rock Park and Pardee Rose Gardens
About 20 percent of New Haven is devoted to open or green space, and one of the favorite places to go on a nice day is East Rock Park. Covering 425 acres, it includes a 365-foot-high, 1.5-mile-long rock. From its top are sweeping views of Long Island Sound and New Haven.
Inside the park, Pardee Rose Gardens display a continuing succession of blooming flowers through the entire growing season, but the peak is during June and July, when more than 50 varieties of roses are in full bloom, one of New England's finest rose displays. The Pardee Greenhouse is beautifully restored.
Also in the park are the Civil War Soldiers and Sailors Monument and Indian Head Peak, as well as playgrounds; picnic areas; and more than 10 miles of trails for joggers, walkers, and cross-country skiers.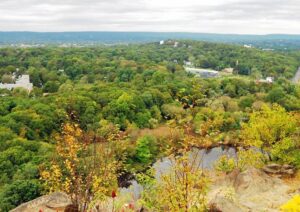 The Shubert Theater
The 1600-seat theater has seen the premiere of many shows before they opened on Broadway. In fact, in the last 100 years, the Shubert Theater has launched more than 300 world premieres and 50 American premieres and hosted over 600 Broadway auditions. Established in 1914 by the Shubert Brothers, the theatre held the world premiere of Oklahoma!, and Marlon Brando launched his stage career here with A Streetcar Named Desire. Today, this beautifully restored theatre still plays host to the top Broadway shows along with performances of dance, live music and a summer art camp for children.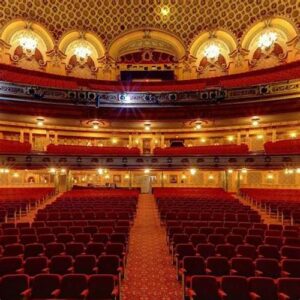 Lighthouse Point Park
A beach on Long Island Sound, fishing pier, and a public boat launch make this a popular park with locals. Although the 1840 lighthouse is not open to the public, the surrounding park area is accessible, and picnic tables are scattered throughout tree-shaded grounds.
The lighthouse itself no longer functions, but the landmark structure adds a picturesque element to the shoreline. A playground for children and the Lighthouse Point Carousel, an antique carousel housed in a lovely historic building, make the park one of the city's most popular places to go for families.
 The Green
In the center of the city, The Green is an urban park covering 16 acres. Three historic churches dating from the early 1800s – Trinity, United, and Center Church on the Green – face Temple Street, inside the park. The Green, which is a National Historic Landmark, was part of the original Puritan colonists' layout for the city, and a cemetery of early graves is in the crypt beneath Center Church.
Music on the Green, New Haven's outdoor summer concert series, brings top musicians to New Haven Green for evening concerts.