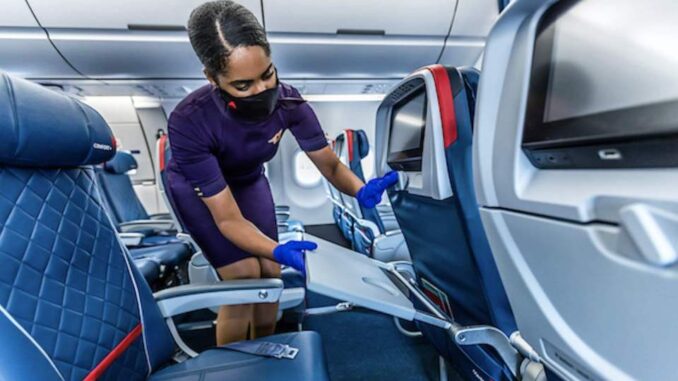 Delta Airlines's commitment to safety, cleanliness and wellness is as strong as ever, and keeping the communities safe has never been more important. Customers can rest assured that cleanliness is – and will continue to be – a crucial component of the Delta CareStandard and integral to the premium experience Delta works to deliver every day. Here are six things to keep in mind and look out for on your next flight:
CLEAN AIR
The air on Delta aircraft is completely refreshed 10 to 30 times per hour (every 2 to 6 minutes) with fresh outside air or air that has been circulated through industrial-grade HEPA filters, which extract more than 99.99% of particles, including viruses. HEPA filters are equally effective against all COVID-19 variants, including B.1.617.2. These are the same types of filters used in hospital operating rooms, and Delta will continue to replace them onboard twice as often as recommended. To ensure clean air on the ground during boarding and deplaning, Delta regularly replaces the air filtering systems that pump outside air into the jet bridges and parked aircraft with LEED Platinum MERV14 filters, resulting in a 40% reduction in air particles.
Delta also has a longstanding mask requirement that is in line with federal law, Scientific studies have shown that the risk of infection onboard a full aircraft with everyone wearing a mask is less than 1 percent.
CLEAN SURFACES
Delta regularly cleans and sanitizes high-touch areas onboard their planes and at the airport.  They conduct frequent and thorough wipe-downs of their aircraft interiors, check-in lobbies, self-service kiosks, Delta Sky Clubs, gate counters and baggage claim areas. They also electrostatically spray aircraft interiors each night with high-grade disinfectant to ensure no surface goes unnoticed. They've even installed antimicrobial LED lighting in some onboard lavatories.
CLEAN HANDS
Customers are never more than a few feet away from hand sanitizer, with stations available from curb to claim. Last year, Delta became the first U.S. airline to install hand sanitizer dispensers near most Delta aircraft's boarding door and bathrooms. These Purell® stations are here to stay to give customers another disinfecting option in addition to the hand sanitizing wipes that are given out during the boarding process.
ONGOING INNOVATIONS
Delta continues to innovate with technologies like BiaXam, a new antimicrobial, continuously-disinfecting surface coating they're testing at check-in kiosks in Atlanta. Customers can also enjoy a more touchless experience through the Fly Delta App, digital menus, and contactless payment technology to minimize touchpoints.
A COMMITTED TEAM
World-renowned cardiologist Dr. Henry Ting joined Delta earlier this year as their Chief Health Officer – a first for a U.S. airline. Dr. Ting has been a key voice in the health and wellness decisions that ensure customer and employee wellness throughout the journey.
Meanwhile, Delta's Global Cleanliness organization is continuously developing science-backed cleaning technologies and protocols that ensure the health and safety of customers and employees. A team of clean ambassadors in airports ensures our cleaning efforts consistently meet the highest standards possible. This includes regularly auditing their cleaning processes and procedures with technology and tools such as ATP testing devices used to swab surfaces in hospitals and restaurants. These devices help Delta teams spot-check high-touch surfaces on board.
DATA-DRIVEN PARTNERSHIPS
Delta forged partnerships last year with Mayo Clinic, Emory University and Reckitt, the makers of Lysol Pro Solutions®, and continues to work closely with them to review the latest science and enhance or adjust cleanliness protocols accordingly. Delta also continue to leverage expert guidance and work with local, state, and federal public health officials to keep their people and customers safe.
"Cleanliness is an important part of our culture, and we are stepping up to the challenge of surpassing our own high standards," said Jonathan Litzenberger, Managing Director of Global Cleanliness Strategy. "We're expanding our reputation for cleanliness that we cemented last year to maintain and improve the level of care we are known for. Delta's commitment is to continue to lead the industry when it comes to clean, giving customers the confidence to fly safely with Delta."