Lucia DeClerck has been getting a lot of attention lately. She celebrated her 105th birthday on January 25 – the same day she was diagnosed with COVID-19. Staff members at Mystic Meadows Rehab and Nursing Center in Little Egg Harbor, New Jersey said : "She was pretty much asymptomatic, but was in the facility's COVID-19 unit for 14 days."
She has survived two pandemics. DeClreck was just two years old, living in Hawaii, when the Spanish flu began. She has also survived two world wars, and has lived through the deaths of three husbands and the death of one of her three sons.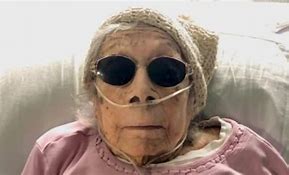 "She's just been open with everything in life and I think that has really helped her because she hasn't hesitated to do whatever she's wanted to do," said DeClerck's son, Henry Laws III.
DeClerk credits her old age to prayer and healthy eating. She believes that her special homemade remedy helped her beat the coronavirus: gin-soaked raisins.
Fill a jar," she explained. "Nine raisins a day after it sits for nine days." Gin-soaked raisins are just one of DeClerk's rituals, which also include drinking aloe juice and brushing her teeth with baking soda.
DeClerck's diet and prayer might not be the only things that have kept her living so long. She is a very positive person.