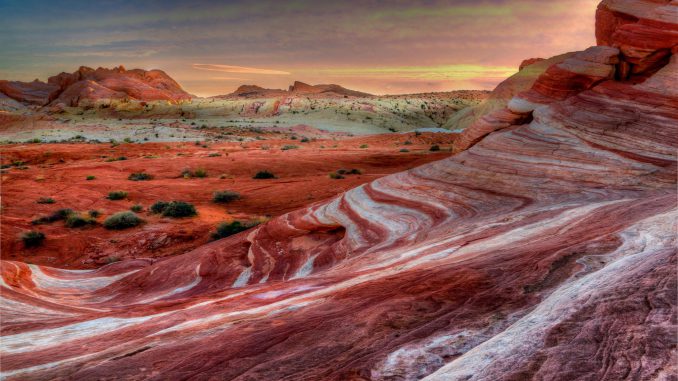 You can enjoy the bright lights in the city but if you are starving for some fresh air, jump into your car and leave Vegas behind for a short trip. Check out the best natural wonders near Las Vegas.
Red Rock Canyon 
Red Rock Canyon is a gem of the city and people come here just to witness them. Desert beauty comes in beautiful shades of red just 15 miles west of Las Vegas at Red Rock Canyon. Tourists, sightseers, joggers, hikers and rock climbers will find the towering red cliffs full of wildlife, including burros, rabbits, coyotes, bighorn sheep, red tailed hawks, golden eagles, hummingbirds, wild horses, bobcats and mountain lions. Visitors can admire colorful rock formations on several hiking trails or on a 13-mile scenic drive.
                                                       Valley of Fire
Valley of Fire is located in the Mojave Desert approximately 58 miles Northeast of the Las Vegas Strip. Valley of Fire is the oldest Nevada State Park and was dedicated in 1935. Valley of Fire State Park covers an area of approximately 35,000 acres. These brilliant sandstone formations can appear to be on fire when reflecting the sun's rays. 
Death Valley National Park 
Death Valley National Park offers stellar geological history and some Old West remnants. Only two hours from Las Vegas, this is one natural wonder worth your time.  
Joshua tree
The Joshua tree, the largest of the yuccas, grows only in the Mojave Desert. Natural stands of this picturesque, spike-leafed evergreen grow nowhere else in the world. Its height varies from 15-40 feet with a diameter of 1-3 feet. They grow 2 to 3 inches a year, takes 50 to 60 years to mature and they can live 150 years. It is well worth the visit. The Joshua trees bloom once every two years in late February/early March (they will bloom again in 2018), but they are absolutely magnificent any time of year.
Lake Mead National Recreation Area 
Lake Mead, Nevada is located on the Colorado River, about 25 miles from the Las Vegas Strip, southeast of Las Vegas, in the states of both Nevada and Arizona. For year-round outdoor adventure, the Lake Mead National Recreation Area in southern Nevada can't be beaten. Both water and land lovers will find things to do and places to visit across this 1.5 million acre recreation area, which is the first of its kind to be established by a congressional act.
For tours in Las Vegas and the area, visit our partner's website: 
M&M Luxury Travel: mandmluxurytravel.com