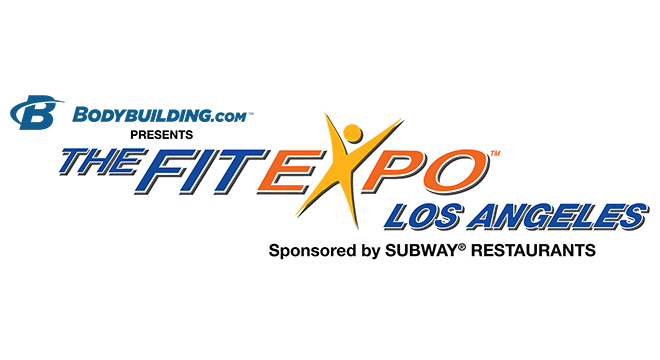 January 26-27, 2019 at the Los Angeles Convention Center
 Get in Shape, Lose Weight and Feel Great!
(Los Angeles, Calif…December 2, 2018) The West Coast's largest fitness event, TheFitExpo Los Angeles presented by Subway Restaurants, returns Saturday and Sunday, January 26-27 to the Los Angeles Convention Center, 1201 South Figueroa Street, South Halls G, H, J and K.
Celebrating its 16th year in Los Angeles and BACK IN ONE GIANT EXHIBIT HALL, this action-packed fitness weekend will offer attendees a vast array of free competitions, over 700 exhibits with the latest and greatest in fitness, diet, nutrition, strength and wellness products and services with show discounts and tons of free samples.
"At the start of the new year, we are committed to bringing our community another top fitness event with many of the eminent fitness leaders in the country along with exciting programming tracks and exhibits," said Erin Ferries, Executive Director of National Fitness Productions.  "We want to invite people of all ages and from all fitness levels to come out and experience everything TheFitExpo has to offer. Our hope is to inspire them to live a healthier lifestyle."
During both days of the Expo, many leading fitness professionals and influencers will offer hot training tips, informational seminars and exciting demonstrations.  Headlining Guests include: Shawn Rhoden (Mr. Olympia 2018), Jay Cutler (4X Mr. Olympia Champion), Jim Stoppani, Ph.D. (Owner/founder of JYM Supplement Science), Billy Blanks (fitness icon and creator of the Tae Bo exercise program), CT Fletcher (6X World Champion Powerlifter), Jeremy Buendia (4X Mr. Olympia Men's Physique Champion), Rich Gaspari, (the first Arnold Classic Winner).   Fitness Instagram superstars will include:  Cassandra Martin (of WRKETHIC Supplements with 1.8 million followers), Ana Cheri (international model and CEO of CheriFit, with 11.6 million followers), Sommer Ray (fitness model and entrepreneur with 19.4 million followers), Christian Guzman (Ghost Lifestyle Athlete with 1.1 million followers), and many more.
Jaw-dropping events returning for 2019 include the Battle of the Bars (calisthenics), Dodgeball Competitions, WOW the Crowd and Spartan Dash.
Bring your appetite for nutritional knowledge to our Healthy Living Pavilion, where some of the most innovative natural products and services are available under one roof.  Dress to work out at The Group Training Zone, which features free mini workouts and prizes for fitness challenges.
For fitness pros, there will be two Zumba® instructor training workshops (Zumba® Basic and Strong by Zumba®) as well as the FitnessFest, a premier source for fitness and wellness training and certification, where the pros can earn up to 16 continuing education units during the weekend (separate fee).
Expo attendees will once again cheer on competitors participating in returning contests including: NPC MuscleContest Challenge (national qualifier); Odd Haugen Strength Classic with All-American Strength Challenge, All-American MAS Wrestling Championships, and the Visegrip Viking All-American Armlifting; the USPA American Cup Powerlifting; Dream Jiu-Jitsu Championship; and the UAL California State Armwrestling Championship.
Attendees will get the chance to win prize money and bragging rights as TheFitExpo's Best and MAXREPS is back, with cash and prizes to the winners.
Adult admission tickets are $30 per day or $45 for the entire weekend.  Tickets for children 12 years and under are $10 per day and children under 6 are admitted free. Show hours are Saturday, 10:00 a.m. – 6:00 p.m. and Sunday, 10:00 a.m. – 5:00 p.m. Plenty of parking is available.
Event is produced by National Fitness Productions. Presenting sponsor for TheFitExpo Los Angeles is Subway Restaurants.  Major sponsors include: BSN, Muscle Monster and Optimum Nutrition.  Supporting sponsors include: AFAA, NASM, Sports Research, Ralphs, U. S. Air Force, Hera x Hero, and Live Fit Apparel.
For full information on TheFitExpo call (818) 545-0290 or visit www.thefitexpo.com.
Become a part of the community, and follow the convention online on –
Facebook: https://www.facebook.com/thefitexpo
Instagram:  @thefitexpo
Twitter: @thefitexpo
#LAFitExpo