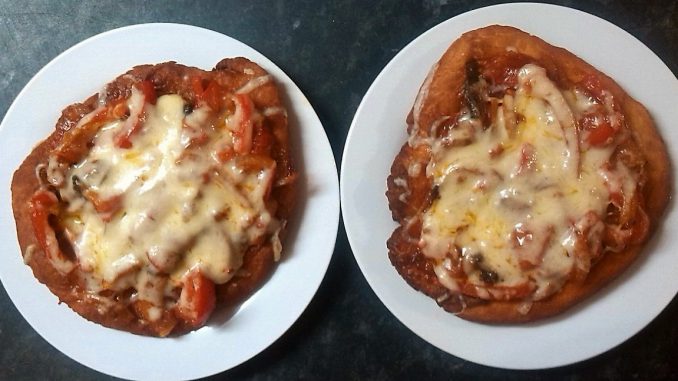 Everybody likes langos? Me definitely, yes! Everybody likes lecso? One of my favourites, I could eat it almost every day.
How about these two foods together? Sounds good. Let's try to make this perfect hungarian taste combination, which can be the summer garden parties' favorite meal.
Honestly, it is very easy to prepair. We make the langos the usual way and fry it. We have to cook a lecso the known way, just a bit less juicy. When both are ready, top the langos with lecso. Let's get started…..
Langos, basic recipe:
1 kilo flour
2 whole eggs
3 deciliter kefír
1 tablespoon salt
1 sashe/packet dried yeast (7g)
5 dkg sugar
oil for the fry
Mix together all the ingredients well for about 10 minutes. Leave to the rest for approximately 2 hours, or until raised. After this time put some flour on the working area, and tear dough in equal pieces of 7 to 10 depending on size and amount required. Baking in hot oil as usual.
It is important, the lecso should be ready on the same time when the langos is.
Lecso basic recipe:
6 paprika
2 tomatoes
1 onion
salt, pepper, red paprika, oil
Cut the clean onion, and fry. Within a few minutes add the chopped tomatoes. When it becomes juicy add the spices and the chopped  paprikas. Stir well and cook until ready.
Top the langos with some lecso, add a hint of grated cheese. Bake it in the preheated oven on 175C for 10-15 minutes until the cheese has melted well. Be careful, it's hot! Let's sit around the table with friends and family and enjoy this tasty and fulfilling unique food.
If you have any questions about cooking send me a message!
Bon appetite!
Monikamazing
The next gastro recipe will be the cottage cheese dumpling!