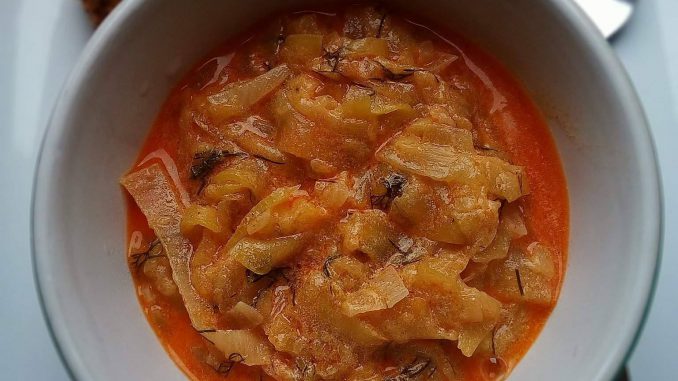 One of the most basic and finest foods of traditional Hungarian cuisine is the főzelek. Outside of Hungary it is not so familiar. Best defined as a kind of soup ragout dish, which can be eaten hot or cold, either way it is delicious.
There are several ways to make this dish. Whether potatoes, peas or just cabbage it's all good with a delicious meat loaf or a fried egg!  My big favourite is spinach, green beans but what I'm offering today is with squash. Simple and very easy to prepare. We can also use reform flour for healthier or dietetic! It's a great single-piece dish, it's worth every week surprising the family with one version, and they will love it. Learn how to prepare it together!
Squash főzelek Hungarian style
1 kilo grated squash
A handful of dill
1 head with medium onions
1 dl of sour cream
1 teaspoon sweet red pepper
salt, pepper to taste
oil
1 tablespoon of plain flour
Cleaned the onion and cut into half, then slice, cook with a little oil on low heat. After a few minutes remove from heat, add salt, pepper, red paprika and the chopped dill. Mix and add a little water (about 1 dl.) return to heat and stir. Put the grated squash in the pan, and mix cooking slow. The squash after a time will be soft, and will also release a lot of water, nothing to worry about.
Mix the sour cream with the flour lump-free. Quickly add it to the ready squash and stir, let it go on cooking. As soon as it's ready serve it.
If you have any question about cooking or baking just ask here!
Bon appetite,
Monikamazing