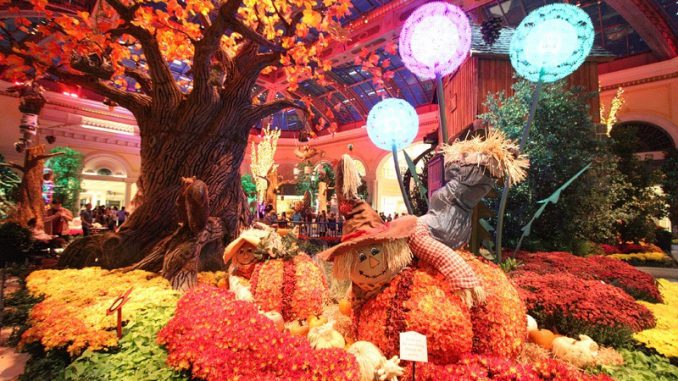 I am sitting on my balcony while having my morning coffee and enjoying the nice Las Vegas weather. I am loving the huge palm trees and the morning calm. Thinking about my work and what I need to do today regarding my magazine.
I absolutely love September in Las Vegas! The amazing weather, the colors of Autumn, crisp cool air, shorter days and longer evenings can give me so much energy and good feelings. Life seems to calm down, however we still have thousand of tourists on the Strip. The hotels are doing their special autumn decorations (fore example one of my favourites, the Bellaggio Hotel).
Before we know it, everything will have pumpkin flavor and Halloween will soon be here. We already can see the Halloween decorations in the stores.
However, September means summer is over. I think, September is a great month to create new plans and goals. We still have 4 months remaining in 2017 and that is enough time to reach our goals.
Enjoy the lovely September weather, the amazing colors of the month, set up a plan for the next four months.
Say "Hello" to September with a smile, stay positive and create your plan! It is going to be such a great feeling at the end of December when you will reach your goals!
Marianna Jackson
Photos: Bellaggio Garden , Las Vegas, Nevada.