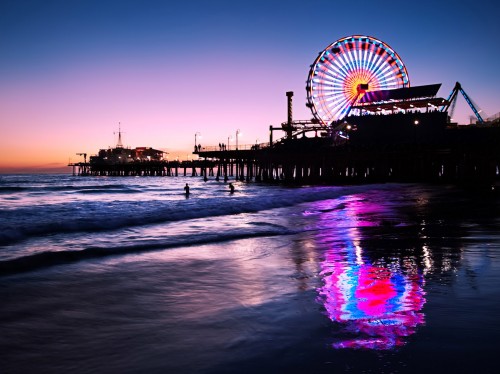 California is one of my favourite states in the United States. Beautiful weather, amazing beaches, and plenty of waterfront attractions! With so many interesting things to do, you will never be bored no matter how many times you visit. Gorgeous sandy beaches, endless fitness opportunities, fun tourist attractions, gorgeous waterfront activities, and cultural attractions.

It is really hard to create a "Top 10 places to visit in CA" list because I love the whole state but here are my favourites in CA:
1. Santa Monica offers a blend of urban energy, beach town atmosphere, world-class oceanfront hotels and a glorious Pacific Ocean setting. Top attractions include the iconic Santa Monica Pier and Third Street Promenade, the Santa Monica Place (my favourite shopping mall) as well as numerous restaurants, shopping and cultural attractions that have attracted celebrities for decades.
2. The Hollywood Sign (LA): It's more than just nine white letters spelling out a city's name; it's one of the world's most evocative symbols – a universal metaphor for ambition, success, glamour. For this dazzling place, industry and dream we call HOLLYWOOD.
3. San Diego is the vibrant and gorgeous city. There are plenty of beautiful beaches to explore which when tempered with the mild climate of the area make this a fantastic place to visit. San Diego has the nickname "America's Finest City" which should say it all really.
4. San Francisco is surrounded by the Pacific Ocean and is famous for the stunning Golden Gate Bridge, colourful houses from the Victorian age and the last remaining cable cars. The city has many huge skyscrapers that make for a beautiful view. Just off the coast is Alcatraz Island which was home to the famous prison.
5. Golden Gate Park is home to ten lakes within the more than 1,000 acres of land designated to one of the most popular places to visit in San Francisco. Within Golden Gate Park you'll discover gardens, playgrounds, lakes, picnic groves, trails, and monuments, plus an array of cultural venues, events, and activities.Throughout the year, there are plenty of sights to see and an array of activities taking place at the lakes, including model boat regattas, waterfalls, pedal boat rentals, and intriguing displays of wildlife.
6. Lake Tahoe is a large freshwater lake in the Sierra Nevada. Basking in its 300 days of sunshine, Lake Tahoe is a haven for outdoor fun in every season. Swimming, kayaking and windsurfing are popular in the summer months, while epic snowfall makes for spectacular skiing in winter. For those who prefer indoor fun, there's plenty of that in Tahoe, too. With 24-hour casinos and a flashy nightlife scene, the area has a tangible Vegas vibe.
7. Death Valley National Park: a land of extremes. America's lowest, hottest, and driest national park. It straddles eastern California and Nevada. It's known for Titus Canyon, with a ghost town and colorful rocks, and Badwater Basin's salt flats, North America's lowest point.
8. The Pacific Coast Highway in California is one of the most beautiful drives there is. It runs along most of the coastline of California and is famous across the world for its beautiful scenery.
9. Napa Valley is in the north of California. The area is famous for its beautiful landscapes and legendary wineries. The area is perfect for those that want to get away from it all and pamper themselves for a few days in the award winning restaurants and spas.
10.Sturtevant Falls are located in the foothills of the Angeles National Forest. The falls themselves are fifty foot in height and look exceptionally beautiful due to the moss and algae that grows on the cliff. This makes the colours you see as the water runs distinctive and mesmerizing.
Marianna Szoke / Las Vegas, NV