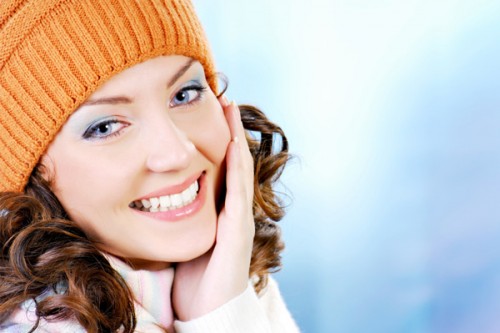 The change of seasons can be very stressful on your skin, especially when going from warmer summer months to cold, windy drier winters. This transition most commonly makes your skin look dull and older than its years, but it can also spur flare-ups of skin conditions such as acne and eczema.
Here's my quick and easy skin care tips for cold weather:
1. Start using your humidifier. To remedy a dry home, bring in a humidifier and set humidity level between 45% and 55% to infuse the air with enough moisture for you skin to reap the benefits.
2. Take quick warm (not hot!) showers. A long hot shower may feel heavenly on cold mornings, but it strips out the water and natural oils in your skin. Limit showers to 15-minutes or less, using warm water, rather than hot water.
3. Don't use harsh soap. Deodorant and antibacterial soaps are especially harsh on your skin, compromising your skin's natural moisture barrier. Instead, opt for mild, fragrance-free cleansers.
4. Use a multitasking moisturizer. After showering apply a body moisturizer while your skin is still damp. Use a formula that gently sloughs off dry, dead skin cells, while also locking in moisture. Look for a cream over a lotion in the winter and also check for ceramides on the ingredient list, which are naturally found in the skin's outer layer, help to retain moisture and can help to replenish the skin's moisture barrier.
5. Moisturize your hands every time after washing. Trade in traditional hand sanitizer for a combination sanitizer that contains moisturizer or lotion.
6. Soften your soles. Your regular body lotion may not be enough for your feet. Look for a thicker cream to penetrate rough, dry skin on feet.
8. Always go fragrance-free dye-free options. Avoid irritants often found in everyday products by selecting fragrance-free or dye-free options.
9. Wear soft clothing. Avoid putting on abrasive or irritating fabrics like wool or polyester directly against your skin, especially the neck. Stick to soft fabrics, such as cotton, especially if they are in direct contact with your skin.
10. Eat the harvest. The best high-antioxidant fruits and vegetables in their peak season right now. The best now are cranberries, blueberries, pumpkin, pomegranate and squash. These foods will help feed your skin from the inside out and keep it looking its youngest most beautiful best.
Marianna Szoke / Las Vegas