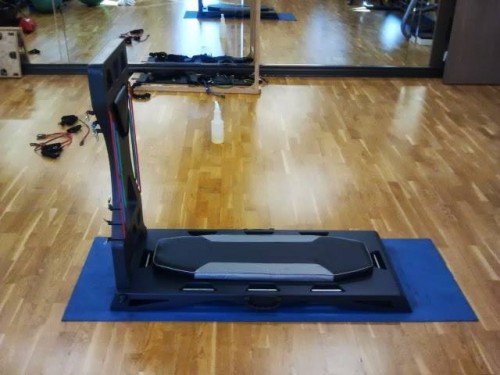 Have you ever heard about the PowerBox or the PowerBoard? If you live in Las Vegas, you probably did.
Marianna Szoke and Michael L. Jackson met 3 years ago in Las Vegas, NV. After just a couple of months they realized that they have something unique together (Body 'n' Soul Wellness Academy and the PowerBox Fitness) and they created their company together. They have been working together on the business for almost 3 years in the United States and also in Europe and now this is the time to show their amazing fitness equipment for the public in Europe also.
About the PowerBox:
The PowerBox was established in 2003 in Las Vegas, NV by Michael L. Jackson. The vision is to grow the company through different market outlets. The PowerBoard and the PowerBox equipments are excellent choice for personal trainers, fitness instructors, pilates instructors, yoga instructors, also for the gyms, hospitals, medical rehabilitation centers. People who would like to use the PowerBox or the PowerBoard at home – they can do that as well!
We can do almost 700 exercises on the PowerBoard and on the PowerBox!
The PowerBoard and PowerBox are both patented and unique Pilates-type, strength training and rehabilitation pieces of fitness equipment. Unlike other strength fitness equipment, which has you sitting when you are doing your exercise, the PowerBoard and PowerBox can be used either standing or lying down. It provides a complete upper and lower body workout and sculpts muscles more effectively than conventional weights. The PowerBoard is lightweight and portable, while the PowerBox is a stationary model. Both can easily be utilized by the beginner as well as the professional trainer. Both use multiple colored, special bands that attach to the ladder and the base of the unit to create dozens of exercises that work the entire body. These colored bands provide various degrees of resistance, allowing the user to work up an advanced state of exercise equivalent to heavy weights, all while providing a cardiovascular workout at the same time.
About the Body 'n' Soul Wellness Academy:
Body 'n' Soul Wellness Academy offers 16 certification courses for its students. They can earn American – world recognized – diplomas at the end of the courses. Our international certifications are recognized by international associations. Thanks to our U.S. background, 21 years of experience and organization memberships, their students are professional instructors and able to find jobs around the world.
Body 'n' Soul Wellness Academy offers some of the most highly regarded health, fitness, nutrition and sports certifications, education programs and educational opportunities available within the wellness/fitness industry.
Body 'n' Soul Wellness Academy essentially aims to offer practical and theoretical certification programs, continuing education courses, home correspondence courses, and regional conventions.  Body 'n' Soul Wellness Academy certification courses are based on the most current principles in Exercise Science, Sports Medicine and Applied Human Nutrition. B 'n' S is committed to setting a progressive example in the  fitness industry, in training techniques and nutrition, by developing educational programs to replace older methods of the past, and providing an advanced perspective on wellness, fitness and nutrition through education and  our staff, trainers and instructors.
PowerBox and Body 'n' Soul Wellness Academy offer unique certification courses for its students all over in the World.
The next B 'n' S conference will be organized in Budapest! Save the date: November 12. 2016.
For more information about our conference and our certification courses, please contact us:
Websites:      www.body-soul.hu
E-mail:           info@body-soul.hu
Phone USA:   702.913.7085, 702.831.9106
Phone HU:     06.709.430.329