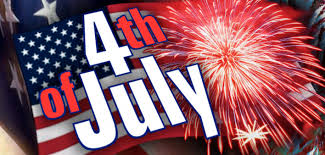 America's 240th Independence Day is celebrated on Monday, July 4, 2016.
July 4, 1776: The Continental Congress adopts the Declaration of Independence while meeting in Philadelphia at the Pennsylvania Statehouse (now Independence Hall).  The Congress declares the American colonies free and independent states.
Benjamin Franklin, John Adams, Thomas Jefferson, Roger Sherman, and Robert R. Livingston comprised the committee that drafted the Declaration. Jefferson, regarded as the strongest and most eloquent writer, actually wrote most of the document. The committee and Congress as a whole made a total of 86 changes to Jefferson's draft.
Whether you're attending a back yard barbecue with friends and family, joining the parade downtown, or just chilling at home, we wish you a happy July 4th and happy Independence Day!
From All of Us here at the American-Hungarian Journal