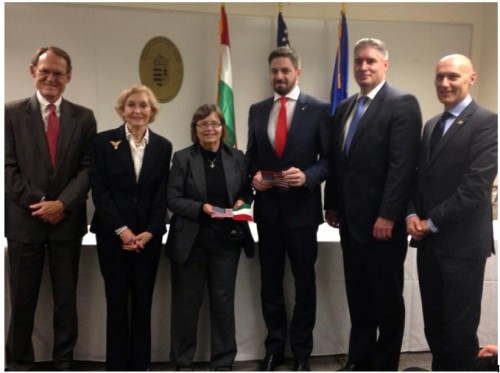 The official opening of Hungary's new diplomatic mission,  the Vice Consulate of Hungary in the San Francisco Bay Area, with a Trade and Investment Representative, took place on March 21,  2016, in the Techmart  Center, in Santa Clara, California.  The office was just a formal step in the longtime efforts to develop and strengthen the cooperation in innovation between Hungary and the San Francisco Bay Area, to find partners for joint research and commercialization, and to support  high-tech entrepreneurs in the Hungarian start-up scene.
Mr.  Levente Magyar, the State Secretary for Economic Diplomacy, Ministry of Foreign Affairs and Trade, lead the delegation from Hungary. Ambassador László Kálmán, Consul General in Los Angeles, which  oversees the Vice Consulate,  provided welcoming remarks, followed by Sean Randolph, senior director, Bay Area Economic Council,  who stressed the important  contribution of Hungarians and other  EU entrepreneurs in the SF Bay Area.
Ms. Teresa O'Neill,   vice mayor of  Santa Clara,  gave a historical perspective of Santa Clara,  the phenomenal expansion of the tech industry and the current challenges of the city and the region that such success brings.
Mr. Magyar offered a presentation of Hungary as a hub of innovation and entrepreneurship in Central Europe, and  stressed the government's  commitment to bolstering investment and economic relations to form a bridge with Silicon Valley. The ceremony concluded with a ribbon cutting and reception for the representatives of the business community.
Balázs Erdei  assumed his duties as the new Trade and Investment Representative, effective March 21, 2016 in Santa Clara, CA.
The first diplomatic mission, the Honorary Consulate General in San Francisco  was opened in 1993 by Eva Voisin. She also founded the Hungarian American Chamber Of Commerce  in the US in 1990. In both capacities she will continue to assist  Northern California with Hungarian consular and business matters. Both offices, located in Silicon Valley, will continue their collaboration, started 10 year ago, when Erdei  was posted  in WDC.
The delegation also signed a Memorandum of Understanding with UC Berkeley's Hass Business School,  covering a wide range of academic and joint  research sectors.
This was an important step for Hungary.  Until 1990, Hungary's  diplomatic  representation was  limited to the East Coast, the Embassy in WDC and the Consulates General in  New York and  Chicago. The diplomatic cooperation expanded to California only after the fall of the Iron Curtain in 1990 when the Consulate General was established in Los Angeles in 1992,  followed in 1993 by the Honorary Consulate General in San Francisco.
With the new Trade and Investment office, Hungary's resources and visibility has greatly increased and will  expand our large networks  and benefit Hungarian  entrepreneurs.