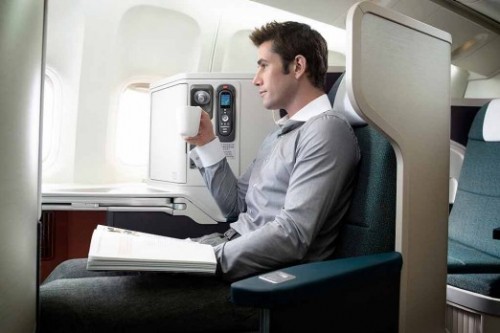 If, like most business travelers these days, you are in the air more than in your home or office, it's important to be able to stay comfortable and connected while logging all those miles.
While you may be inclined to tackle the stack of pesky e-mails that continue to pile up, experts say that instead of trying to get a fickle Wi-Fi connection to work while you're en route, a better use of your time might be to rest and relax.
The following tips should give you plenty of reasons to look forward to your next Business Class flight:
1. Sample other countries' tasting menus. Business Class on many airlines features global cuisines and regionally-inspired dishes, so take advantage of in-flight dining to sample food from international locales. Or, check if your Business Class lounge offers pre-dine service before boarding and spend your time enjoying a movie or catching up on sleep.
2. Stay connected. Check if your Business Class offers free Wi-Fi. If so, you can log in to work, post on social media, or even start posting travel photos early.
3. Unplug and tune in. If you'd rather unwind and disconnect from the grid, use those noise-canceling headphones that are provided for you and browse through the many in-flight entertainment options. Business Class typically offers an array of choices, including: business shows, documentaries, movies and playlists, plus exclusive content for Business Class guests.
4. Sleep like you're in your own bed. In addition, the airline offers guests amenities such as eye masks, socks, and custom-made duvets for coziness (and warmth) to maximize the comfort and quality of rest.
5. Arrive before you depart. Business Class guests on most airlines receive priority boarding and exit, so you can get where you're going quickly and effortlessly.