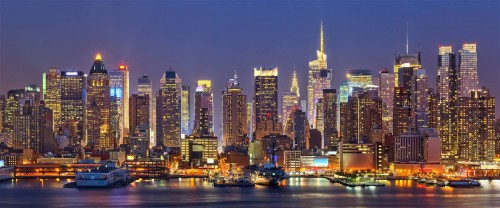 I continue my blog about my american travels and experiences. As I promised before I am introducing New York , which is one of the most visited city in the United States.
I visited New York 4 times and I will never forget my first visit. When I landed in JFK , I took a cab to go to Manhattan. I got a feeling that I had never felt before. The skyscrapers, million's of people on the streets, the yellow cabs and the whole athmosphere is totally different in New York than it is in any other city in the United States.
Every time when I have a chance to visit NYC, I feel the same. A totally different world, very busy and noisy but amazing and beautiful at the same time. Not suprisingly, New York got "the most photographed city in the World!" awards.
Manhattan's skyline, with its many skyscrapers, is universally recognized, and the city has provided several of the tallest buildings in the World.
Home to the Empire State Building, Times Square, Statue of Liberty and other iconic sites, New York City is a fast-paced, globally influential center of art, culture, fashion, and finance. The city's 5 boroughs sit where the Hudson River meets the Atlantic Ocean, with the island borough of Manhattan at the "Big Apple's" core.
It has got 5 boroughs: Brooklyn, Queens, Manhattan, Bronx, and Staten Island.
New York is a global hub of internation business and commerce and it has been described as the cultural capital of the World as well. It is a prominent location for the American entertainment industry, with many films, television series, books, and other media being set there.
I had a chance to get to better know Brooklyn as well, but the main site of the sity is Manhattan. My suggestion is to buy a 3 days tourist ticket for the double decker bus and take a night cruise as well. I always do it every time I am there. The night tour can give you an unforgettable memory.
Manhattan is the smallest part of the city. It is the most densely populated borough and is home to Central Park and most of the city's skyscrapers. Many restaurants, stores, boutiques, and hotels are next to each other and you cannot lose your way in the numbered streets. The Fifth Avenue devides the city's east and west sides.
If you would like to visit New York City, you should take a minimum 5-6 days to see the most of the famous spectacles.
Here are my suggestions:
– New York City Skyline
– the Empire State Building
– Times Square
– Central Park
– Rockefeller Center
– NYC Museums
– Statue of Liberty on Ellis Island
– Yankee Stadium
– Manhattan Bridge
– Brooklyn Bridge
– Lincoln Center
– Coney Island
– China Town
– 9 / 11 Memorial
– Lower Manhattan
– Little Italy
– Fifth Avenue
Here are some of my photos that I took the last time (September 2015.)
Marianna