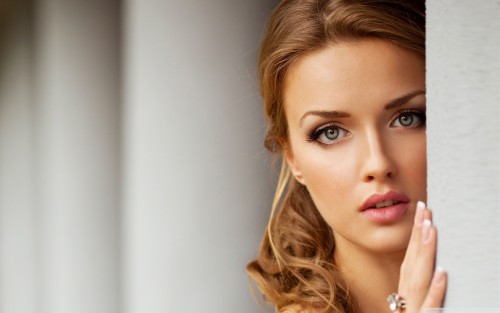 What Does it Mean to Be Feminine?
Sometimes we feel, we are sexy, beautiful and feminine. Sometimes we feel totally the opposite. We all have ups and downs, good days and bad days. Sometimes we think everything is about our hormones. We can cry and we can laugh easily. We want to look amazing, we want to be happy and healthy, we want to be strong, independent but we want a lovely guy who can take care of us too. We need love and care even if we say: I am ok by myself.
I am sure you can understand what I am talking about: we are women!
So what does it mean to be feminine? Can you be a Bombshell, and a smart, strong and successful woman at the same time?
I think we have to talk and learn about what it means to be a woman in today's word. Men are attracted to a woman with feminine traits. And we want to be very feminine, but we want to show them that we are strong enough to reach our goals.
Being feminine is all about the opposite of manly.
Here is some advice as to how you can be more feminine:
1. Speak softly and gently. My boyfriend keeps telling me on the phone: you have such a sexy voice. Well…I don't know it, but what I know is that speaking softly is a huge contrast to his strong voice and he loves hearing it.
2. Have nice hair. We women tend to think we can only do long hair until a certain age but my opinion is that is not true. I am not in my twenties either but he loves my long, curly hair. Even if your hair is shorter, take care of it every day. Have your hair well groomed.
3. Wear skirts and dresses. Most men love to see their women in a dress. I love wearing my jeans and T shirts as well, but when I wear a dress, I definitelly feel like I a WOMAN. Dresses can instantly make you look ladylike.
4. The other great way to show off your femininity are the heels. They make your legs look beautiful and give you a nice slant to your normal walk.
5. Wear simply nice jewelry. This is an easy way to look more girly.
6. Don't be afraid of integrating bright colors into your wardrobe. Try out brightly colored shoes, bottoms, tops or bags as well. They can improve your mood too and you will feel like a sexy lady.
7. Perfumes are my favourites! Wearing a flirty fragrance can make you feel that much more womanly and confident. Feel sexy every time you wear it!
8. Another way to look more feminine is wearing soft, nice and sexy, but comfortable underthings. Of course men love our feminine bras and panties.
9. I love handbags too! I have different colors and fashion in my wardrobe. Be brave and choose bright colors!
10. Wear a nice, scented lotion! Wearing lotion will make your skin very soft which is a very feminine trait. Soft skin is something men notice very quickly when they are in a relationship with a woman and they appreciate it. My boyfriend loves my skin when it is so soft and smells of my favourite lotion. Use your lotion and let him be amazed!
There are a million ways to look and feel more feminine. The best way is to just be yourself. You have to listen to your inner thoughts. The most important thing is that you stay true to your personal taste and wear what is comfortable to you.
Wear and do what you love in your life and fashion and you will feel sexy and beautiful. You are a Bombshell – you just have to realize it in your innerself!
And when your man's first sentence in the morning is: "Sweetie, you are so beautiful!" you just kiss him and say: "Thank you honey" with a huge smile on your face.
Marianna