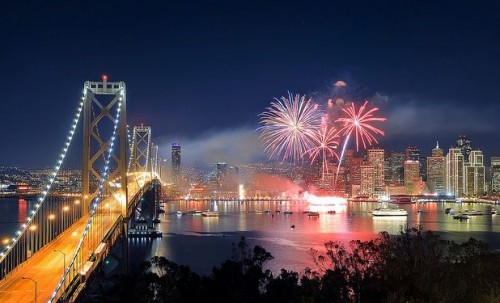 Looking for a last minute New Year's Eve Party in the US? Here is our list of some big US cities to celebrate the New Year. 

LAS VEGAS: The Strip is closed to traffic and transformed into a pedestrian party for thousands of celebrants. Celebrities join the masses at upscale nightclubs. Regular tickets are between $150 – 250 / person in the nightclubs (VIP tables are around $3800 / 10 people). Fireworks at midnight on the Strip.
NEW YORK CITY: Every year people worldwide tune in to watch the iconic ball drop from a top One Times Square. Parties are all over in Manhattan's clubs, restaurants and hotels. For those who have made resolutions for a healthier lifestyle in the new year, start off on the right foot with the Brooklyn Bridge Walk or the New Year's Midnight Run.
SAN FRANCISCO: celebrates the new year with a variety of flamboyant events. A harbour tour is an ideal way to see the city lights and brilliant fireworks displays. Family cruises are affordable, typically hosted by a DJ and serve food and light drinks. Adult cruises offer four-course meals, top-shelf bars, live bands and dance floors.
NEW ORLEANS: The New Year's Eve is a little bit different from most places, midnight is when the party really begins. The biggest celebration is at Jackson Square packed with festive partygoers eager to ring in the new year.
ORLANDO: Walt Disney Resort is the ultimate destination for families to welcome in the new year. Music, dancing, parades and spectacular fireworks ensure that it is a night to remember.
CHICAGO: With its combination of scenic lakefront views, rich partying culture, great local artists, Chicago is one of America's premier nightlife destinations. "The Windy City" offers up a range of different New Year's Eve alternatives, including some of the hottest parties in the Northwest.
HONOLULU: has got plenty of nightclubs, hotels and restaurants at which to welcome the big occasion but the most inspiring is a traditional Hawaiian luau, where guests can experience colorful and animated island rituals. Fireworks are an important part of Hawaiian celebrations.

Marianna Szoke / Las Vegas, NV