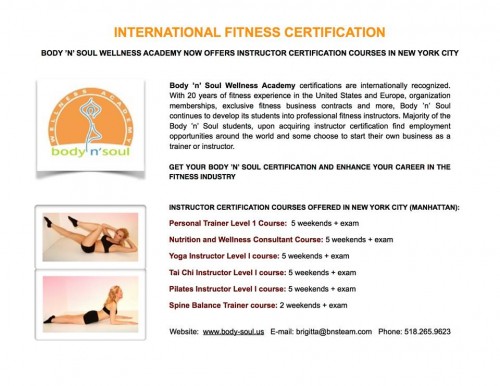 Trainer, Coaches, and anyone who wants to take their fitness education to the next level: check out the Body and Soul certification. Created by Marianna Szoke, there are centers worldwide, including New York City.
This certification program is more hands on and intensive than other training certifications. Over five weekends, you will learn anatomy, physiology, biomechanics, nutrition, and more to a level of detail that these other programs can only aspire to.
More importantly, you will learn to coach clients according to their knowledge and emotional base, including the very difficult ones. As a result of your training, you will be a better coach, able to deftly handle any situation that comes your way.
That means more clients and more money for you!
What are you waiting for? Take the next step and sign up today!
Email Bridget Miller at brigitta@bnsteam.com with further questions or concerns.