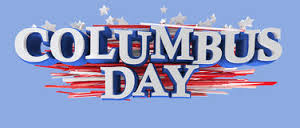 Columbus Day is on the second Monday of October, remembers Christopher Columbus' arrival in the new World on October 12, 1492. It was unofficially celebrated in a number of cities and states as early as the 18th century but did not become a federal holiday until the 1937. For many, the holiday is a way of both honoring Columbus' achievements and celebrating Italian-American heritage.
Columbus Day originated as a celebration of Italian-American heritage and was first held in San Francisco in 1869. The first state-wide celebration was held in Colorado in 1907. In 1937, Columbus Day become a holiday across the United States. Since 1971, it has been celebrated on the second Monday in October.
In many parts of the United States, Columbus Day has evolved into a celebration of Italian-American heritage. Local groups host parades and street fairs featuring colorful costumes, music and Italian food.