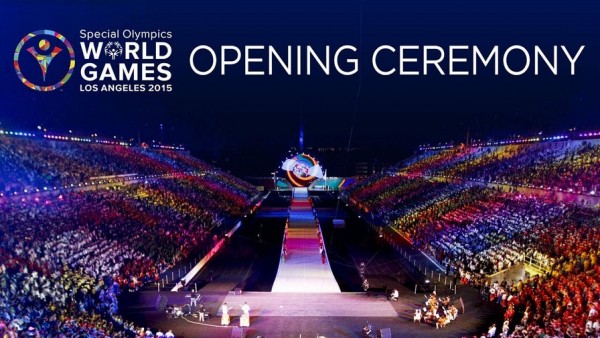 I was honored to be invited to the Special Olympics World Games Opening Ceremony at the Los Angeles Memorial Coliseum on the 25th of July, 2015.
The Opening Ceremony was very touching and an unforgettable experience. I think it was not just for me, but for the other 70,000 guests who were in the Coliseum, too.
The athletes of the Special Olympics came to Los Angeles with their enthusiasm and full hearts. They arrived at this amazing event where there is no distinction among competitors of different abilities. It doesn't matter if they are from rich or poor countries, what color their skin is, etc. Just one thing counts: to win and to do their very best. They show the World that with hard work and enthusiasm, anyone can reach their goals!
One of the Special Olympics' athletes shared his secrets with us when he said, " When I was a kid I was dreaming about Los Angeles and I promised myself that I will reach my goals and make my dreams come true one day. I thought, one day I will be in LA and I will compete in the Speical Olympics World Games. Now I am here and I am competing. I had to work very hard but it was worth it….every minute was worth it."
6,500 athletes arrived from 177 countries and had a beautiful ceremony in the Coliseum. They set an example to all of us about how to reach our goals and make our dreams come true.
Think about it for a couple of minutes and see the inner beauty of our souls, finding our strength and finding the way to be successful. Do we have any reason why we cannot reach our goals? Yes, maybe we have to start over and over again until we achieve what we want. We have to be strong and we have to believe in ourselves.
Nobody said it will be easy.…life is not easy….but with a strong personality and faith we can do it! One day we will do it!
Marianna Szoke / Los Angeles, CA.