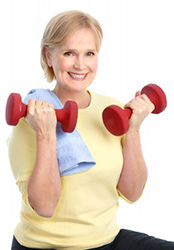 Every week 5 hours exercise is recommended for post-menopausal women, to cut down extra flab and reduce the chances of breast cancer, said researchers.
Post-menopausal women, especially those who are obese, should exercise at least five hours a week to curb obesity and breast cancer risk, shows research. Exercising 300 minutes per week is recommended for reducing total fat in post-menopausal women than the currently recommended 150 minutes, the researchers said.
The women, who had body mass index (BMI) 22 to 40, were asked not to change their usual diet. Any aerobic activity that raised the heart rate 65 percent to 75 percent of heart rate reserve was permitted, and most of the activities involved the elliptical trainer, walking, bicycling and running.
Average reductions in total body fat were larger in the 300-minute versus 150-minute group. Abdominal fat, BMI, waist circumference and waist-to-hip ratio also decreased more in the 300-minute group, the findings showed.
The results of the one-year clinical trial was published online in the journal JAMA Oncology.