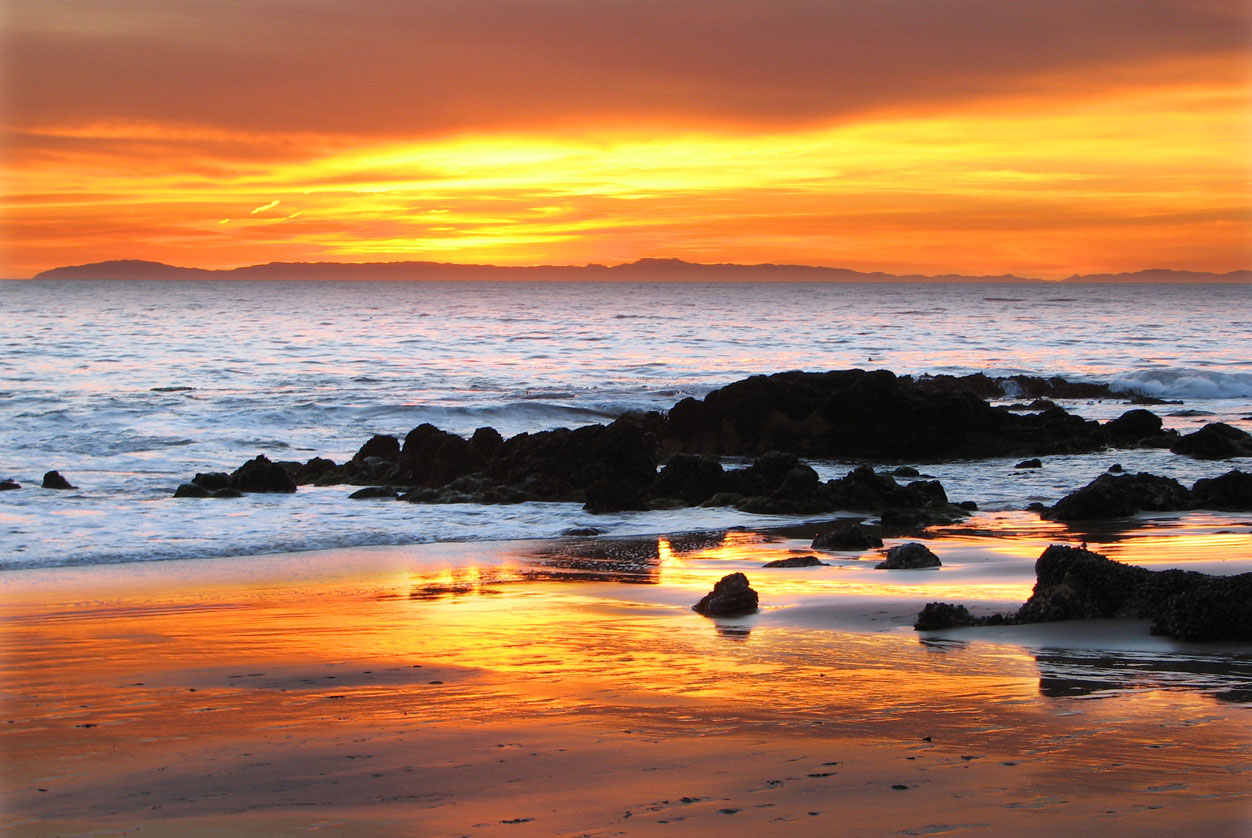 California is the only state in the United States with an extensive seacoast, high mountains, and deserts.
Origin of State name: Probably from the mythical island California in a 16th-century romance by Garci Ordónez de Montalvo. Nickname: The Golden State.
As much a state of mind as it is a place, California beckons with 840 miles of rugged coastline, seemingly endless sunsine, and agricultural bounty.
The state capital is Sacramento. Sacramento offers a range of exciting, educational and historic attractions sure to entertain all. One of the most historic cities in California, which boasts an impressive array of landmarks, parks, amenities and other must-see points of interest.
The other amazing city is San Francisco. This city is home to little bit of everything. It's known for its hilly landscape, year-round fog, iconic Golden Gate Bridge, cable cars and colorful Victorian houses. The Financial District's Transamerica Pyramid is its most distinctive skyscraper. In the bay sits Alcatraz Island, site of the notorious former prison.
With 42 miles of beaches and stunning coastal trails, it feels like an endless summer in Orange County, which stretches from inland Anaheim to the coastal citiies of Huntington Beach, Newport Beach, and Laguna Beach. Whether it's manicured beach towns or celebrated theme parks, all framed by oceanfront towns and luxury yachts, "The OC" stands out as one of the state's most iconic destinations. The always-amazing Disneyland Resort, roughly a 1-hour drive south of L.A. and 2 hours north of San Diego, continues to be one of the best-loved theme parks in the world, while Knott's Berry Farms and other OC attractions amp up the fun meter.
The American Riviera is Santa Barbara. The city's combination of endless blue skies, Spanish Colonial Revival – style architecture, and a breezy vibe may make you want to stay a while.

Los Angeles is a sprawling Southern California city famed as the center of the nation's film and television industry. Not far from its iconic Hollywood sign, studios such as Paramount Pictures, Universal and Warner Brothers offer behind-the-scenes tours. On Hollywood Boulevard, TCL Chinese Theater displays celebrities' hand- and footprints, the Walk of Fame honors thousands of luminaries and vendors sell maps to stars' homes.
Drive down the Southern California coast, and visit the best beaches in Los Angeles, Orange County and San Diego.
San Diego is a city on the Pacific coast of California known for its beaches, parks and warm climate. Immense Balboa Park is the site of the world-famous San Diego Zoo, as well as numerous art galleries, artist studios, museums and gardens.From the café-lined Gaslamp Quarter to the beaches of La Jolla, this 70 mile stretch of Southern California is the most reliably sunny. Feel the sand between your toes, hike through Torrey Pines State Reserve, or embark on a brew tour. From the beloved zoo to Legoland, the region offers countless attractions.
Marianna Szoke