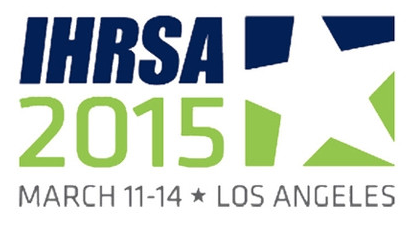 At the recently completed IHRSA 2015, the International Health Racquet & Sportsclub Association's 34th Annual International Convention & Trade Show, thousands of fitness industry leaders celebrated the successes of a thriving industry, showcased the newest and most innovative equipment, programs, and technology, and reinforced the industry's commitment to increase physical activity levels across the globe. The high-energy event, gathering thousands of health club operators, suppliers, and fitness industry professionals together from over 80 countries, was held in Los Angeles, California, March 11-14, 2015.
IHRSA 2015 by the Numbers:
– Attending IHRSA 2015 were over 13,000 industry professionals, including 8,000 convention and trade show attendees.
– A record of 84 countries were represented by this year's 8,000 convention and trade show attendees.
– The exhibit hall, with 388 exhibiting companies, occupied 178,000 square feet.
– Over 160 networking, educational and exercise classes were listed on the IHRSA 2015 official agenda.
Marianna Szoke