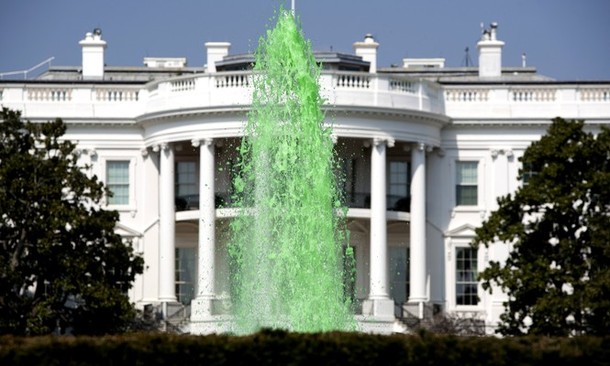 St. Patrick's Day is coming up and some cites in the USA get festive by dyeing local bodies of water green.
Indianapolis: Each year the city pours 10 gallons of concentrated liquid dye into the water. The dye turns the whole canal green and lasts about 2 to 4 days depending on whether it rains and dilutes the water,
Chicago: The city turns the river green by dumping roughly 40 pounds of a secret formula powder into the river. Boats help churn the water, which mixes the environmentally-friendly powder, into the river turning it a maximum green in about 45 minutes.
Savannah: The city dyes several of its fountains green, including the Forsyth Fountain, which many consider the "crown jewel" of the city.
Washington, D.C.: It may not be a river or a canal, but the White House gets in the fun by dyeing the water in the fountain on the south lawn green on St. Patrick's Day. The tradition started in 2009, when first lady Michelle Obama, a native of Chicago, decided to bring a version of her city's tradition to the nation's capital.