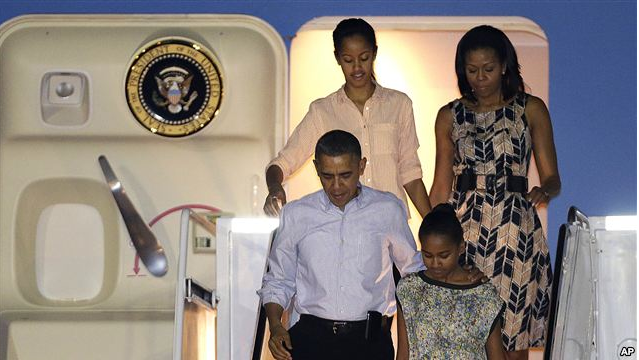 The president and first family are heading off to Honolulu, Hawaii, for a 16-day tropical vacation that's become their annual tradition over the Christmas and New Year holidays.
"My presidency is entering the fourth quarter," President Obama said at his final press conference of the year. "Going into the fourth quarter, you usually get a time-out. I am now looking forward to quiet time-out, Christmas with my family."
While there's no such thing as a work-free vacation for an American president, Obama will likely spend plenty of time soaking up the sun, snorkeling in Hanauma Bay, hiking and biking with his daughters, and enjoying the local cuisine.
The White House says he plans to hold no public events. But as with past years, there's the possibility Obama's two-week getaway will be punctuated with breaking news around the world to which he'll need to respond.