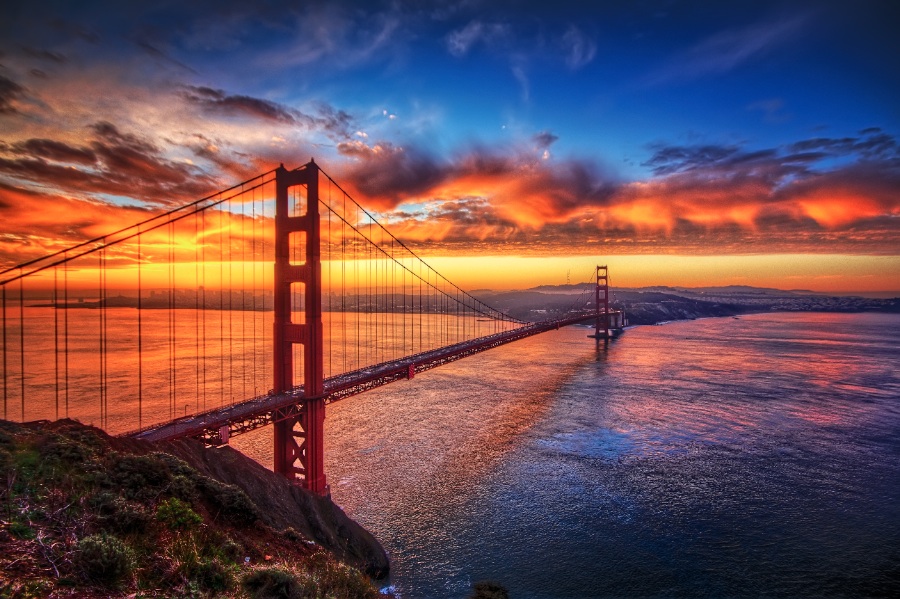 The Golden Gate Bridge is more than a way to get to work every day, it is an engineering marvel. The bridge spans over the three mile long straight that is in between the Pacific Ocean and the San Francisco Bay. US Route 101 runs through the bridge and continues up the Pacific coast.
The bridge is one of the most internationally recognized symbols of San Francisco, California and the United States. It has been declared one of the Wonders of the Modern World by the American Society of Civil Engineers.
Construction of the Golden Gate Bridge started in 1933. The bridge, which was designed by engineer Joseph Strauss was built to connect San Francisco with Marin County across the 1600 meter (+5000ft) wide strait known as the Golden Gate which links the San Francisco Bay with the Pacific Ocean.
It would take thousands of workers, four years and 35 million dollars to complete the structure. On May 27, 1937 the Golden Gate Bridge was inaugurated by 18.000 people who walked across the bridge. The next day the bridge officially opened to motorized traffic. Today more than 120,000 cars cross the bridge each day.
Soon after its completion the Golden Gate Bridge already enjoyed worldwide fame, not only because the bridge was breaking records, but also thanks to the elegant Art Deco design of the two huge towers and the magnificent surroundings near the Pacific Ocean. The eye catching orange-red color of the bridge also helped its popularity. The color was suggested by engineer Irving Morrow, who thought the traditional gray color was too boring.
The Golden Gate Bridge has now long lost its record of the longest bridge, but it is still one of the world's most famous structures.
Specifications:
Location: San Francisco, California
Designer: Joseph Strauss, Irving Morrow, and Charles Ellis
Material: Steel
Span: 4200 feet
Date Completed: 1937