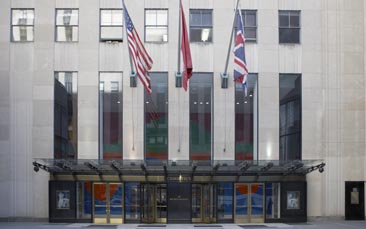 Christie's New York launched the spring auction season Tuesday night with a robust sale of $285.9 million, led by Monet, Picasso and Modigliani, despite a palpable lack of excitement in the salesroom. The Impressionist and modern art auction had been estimated at between $245 and $360 million. The house sold 47 of 53 works over the 90-minute sale for a strong sell-through rate of 89 percent. Last year's auction of similar material totaled $158.5 million.
Monet's 1907 Nymphéas was the evening's top lot, ringing up at $27 million after just 90 seconds of bidding. The price, paid by a private Asian buyer bidding by phone via Christie's specialist Elaine Holt, was just above the painting's low estimate of $25 million. Depicting the surface of the artist's lily pond at Giverny, the canvas came from the estate of famous recluse and heiress Huguette Clark, who lived in a New York hospital room for her last 20 years despite good health, leaving her numerous posh residences uninhabited.
Even estate material with good provenance failed to dazzle. Nine works from German collectors Viktor and Marianne Langen, including Kandinsky, Picasso, Braque and Léger, totaled $79.8 million against an estimate of $73 million to $105 million. Eight works from the estate of Seagram magnate Edgar M. Bronfman, among them Picasso, Degas and Matisse, brought $21 million, shy of the group's presale estimate of $22 million to $34 million.
The evening did have some hotly contested lots.
Amedeo Modigliani's Seated Red-Haired Young Man, a 1919 canvas, inspired a six-minute bidding war, the evening's longest contest. It surged past its high estimate of $12 million to ring up at $17.6 million, making it the evening's third-priciest lot. The buyer was an unnamed American private client.
Also inspiring lively bidding was a set of 19 silver repoussé plates by Picasso from 1956. After five minutes, the set more than doubled its high estimate to sell for $3.5 million to a buyer bidding over the phone via Christie's specialist Conor Jordan.
Marianna Szoke / Las Vegas, NV