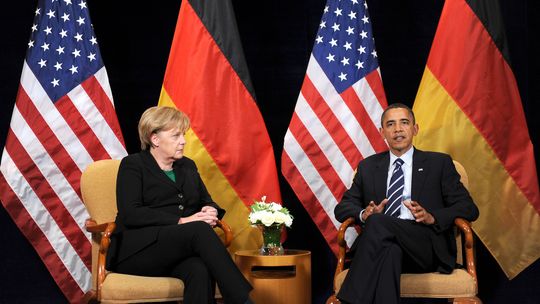 US President Barack Obama welcomed Germany's Angela Merkel to the White House Friday, May 2, seeking to secure united European backing for tougher sanctions on Russia's economy should the Kremlin escalate the crisis in Ukraine.
The president and the Chancellor met days after both the United States and the European Union imposed new sanctions on key political and business figures around President Vladimir Putin.
The measures followed the failure of a deal brokered in Geneva to de-escalate tensions in Ukraine and the refusal of Russia to rein in pro-Moscow separatist groups in southeastern Ukraine.
So far, the sanctions adopted by either side have been limited to personal visa and asset bans against prominent people in Putin's inner circle, branded "cronies" by the White House.
But Washington warns that it will impose tougher sanctions that will hit directly at key sectors of the Russian economy, if Putin for instance marches troops currently massed on the border of Ukraine directly into the country.
On Thursday, White House spokesman Jay Carney denied Washington and the EU had butted heads over possible new sanctions.
"There has been a great deal of collaboration and cooperation in that effort between the United States and the EU, as well as all the members of the G7, so we expect that effort to continue," he said.
"We expect to continue a path that sees an international coalition escalating the costs that Russia will have to endure and pay if Russia refuses to keep its commitments."
Carney added that the United States and EU members each have "a different kind of economic relationship with Russia, and so sanctions will affect different nations differently."
After their talks, Merkel and Obama hold a press conference in the Rose Garden of the White House.
Marianna Szoke, Las Vegas/Nevada