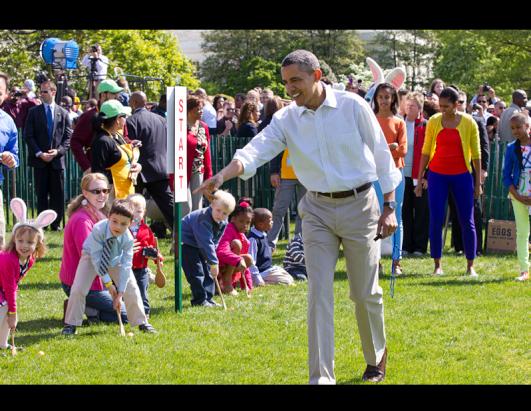 President Obama and the First Lady welcomed more than 30,000 guests today to the White House South Lawn for the 136th annual White House Easter Egg Roll.
This year's theme was "Hop into Healthy, Swing into Shape," which promotes the First Lady's " Let's Move!" initiative to help kids grow up healthy and have the opportunity to reach their full potential. The day's activities included live music performances, activity centers, cooking stations, storytelling, and, of course, Easter egg rolling.
The White House Easter Egg Roll is a tradition that dates to 1878. Originally, young children in Washington, DC, would flock to Capitol Hill every Monday after Easter for egg rolling and a day of activities. Members of Congress grew tired of the growing crowds and passed an Act of Congress which prohibited egg rolling on the Capitol grounds. The event was moved to the White House in 1878 after President Hayes was approached by young children to use his backyard to roll eggs. Nearly every Easter since, the White House has invited young children to roll eggs on the White House lawn.
Today, the Easter Egg Roll has grown from a few local children rolling eggs on the White House lawn to become the largest event held at the White House, filled with live entertainment, sports and interactive cooking demonstrations. And, of course, the traditional rolling of the Easter eggs. The Easter Egg Roll promotes healthy and active living and is designed for children 13 years of age and under.
Marianna Szoke
Las Vegas, NV