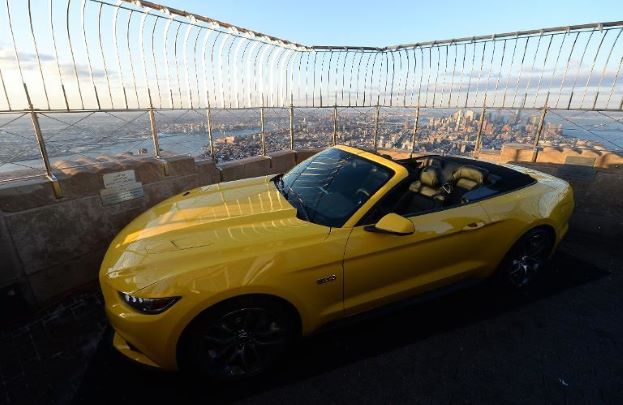 Ford celebrated the 50th birthday of its beloved Mustang by displaying a new model of the convertible on top of the Empire State Building in New York on Wednesday.
The Triple Yellow 2015 Mustang was taken apart, whisked up by elevator to the observation deck and painstakingly reassembled overnight in freezing wind, rain and snow.
More than 1,000 feet (304 meters) above the crowded streets of Manhattan, the observation deck is too high to send the car up by crane and although open air, too narrow for a helicopter drop.
So a team of eight or nine spent more than five hours reassembling the car by hand overnight, battling strong wind on the 86th floor of New York's second tallest building.
By sunrise, the convertible was glittering and the views across Manhattan stunning.
Visitors can admire the car until Thursday. After the deck closes to the public at 2:00 am on Friday, the crew will dismantle the car all over again and remove it.
The 50th birthday will be celebrated in great pomp at the New York International Auto Show from April 18 to 27.
Marianna Szoke
Las Vegas, NV