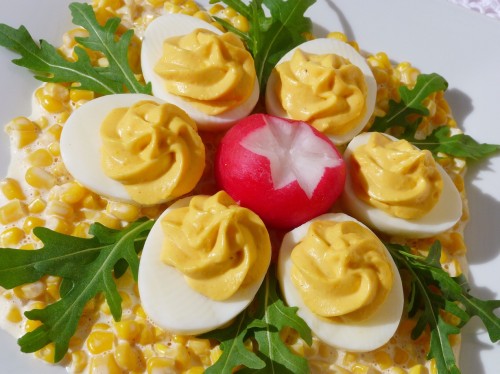 Easter is a time of year when many people celebrate with family and friends. Some families prefer the Easter brunch or the lunch, while the others like the nice dinner.
Think twice how many eggs you need, where do you want to buy your Easter Ham and what kind of cookies you would like to give for your family and guests.
If you are having Easter brunch and would like to put different foods on the table here is a great appetizer. Easy to make this amazing eggs.
Bacon and Cheese Deviled Eggs
Deviled eggs with extra flair; these eggs have bacon and cheese mixed in.
Ingredients:
• 12 hard-cooked eggs, peeled
• 1/2 cup mayonnaise
• 1 tablespoon honey mustard
• 1 teaspoon prepared yellow mustard
• 1/2 teaspoon salt
• 1/4 teaspoon black pepper
• 4 strips bacon, cooked, crumbled
• 2 tablespoons shredded sharp cheddar
• Parsley, for garnish, optional
Directions:
Halve eggs lengthwise. Spoon the yolks into a bowl. Reserve the whites. Mash yolks with fork. Add mayonnaise, honey-mustard, yellow mustard, salt and pepper. Fold in bacon and cheese. Fill each half egg white with yolk mixture. Cover and refrigerate until ready to serve.