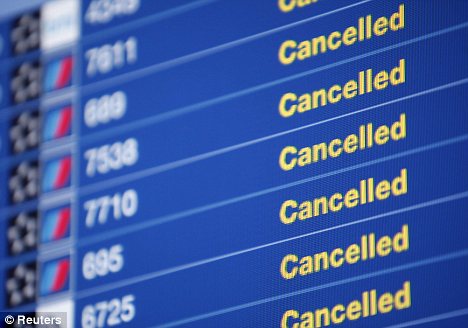 More than 600 U.S. flights were canceled and about 2,600 were running late on Tuesday as a winter storm swept across the Northeast.
Adding to travelers' woes: United Airlines experienced problems with its passenger-service computer system for much of the morning.
By early afternoon, at least 450 United flights had been delayed. although it wasn't clear how many of those were due to the technology issues. The total didn't count delays on regional affiliate United Express.
United wasn't the only airline struggling to stay on schedule Tuesday. Southwest had even more delays — 700, according to FlightAware.
Spokeswoman Michelle Agnew said the delays were caused by the winter storm in the Northeast and high winds that temporarily grounded flights in Denver, a key outpost for Southwest. The airline's on-time rating has fallen sharply — dropping to last in government rankings — since August, when it began packing more flights into peak hours of the day.
Snow and ice snarled air traffic in the Northeast. By early afternoon, more than 100 departures had been canceled at Newark Liberty Airport in New Jersey and dozens more at New York's LaGuardia Airport and in Philadelphia.
Several big storms have slammed travelers this winter. U.S. airlines have canceled more than 78,000 domestic flights since Dec. 1.