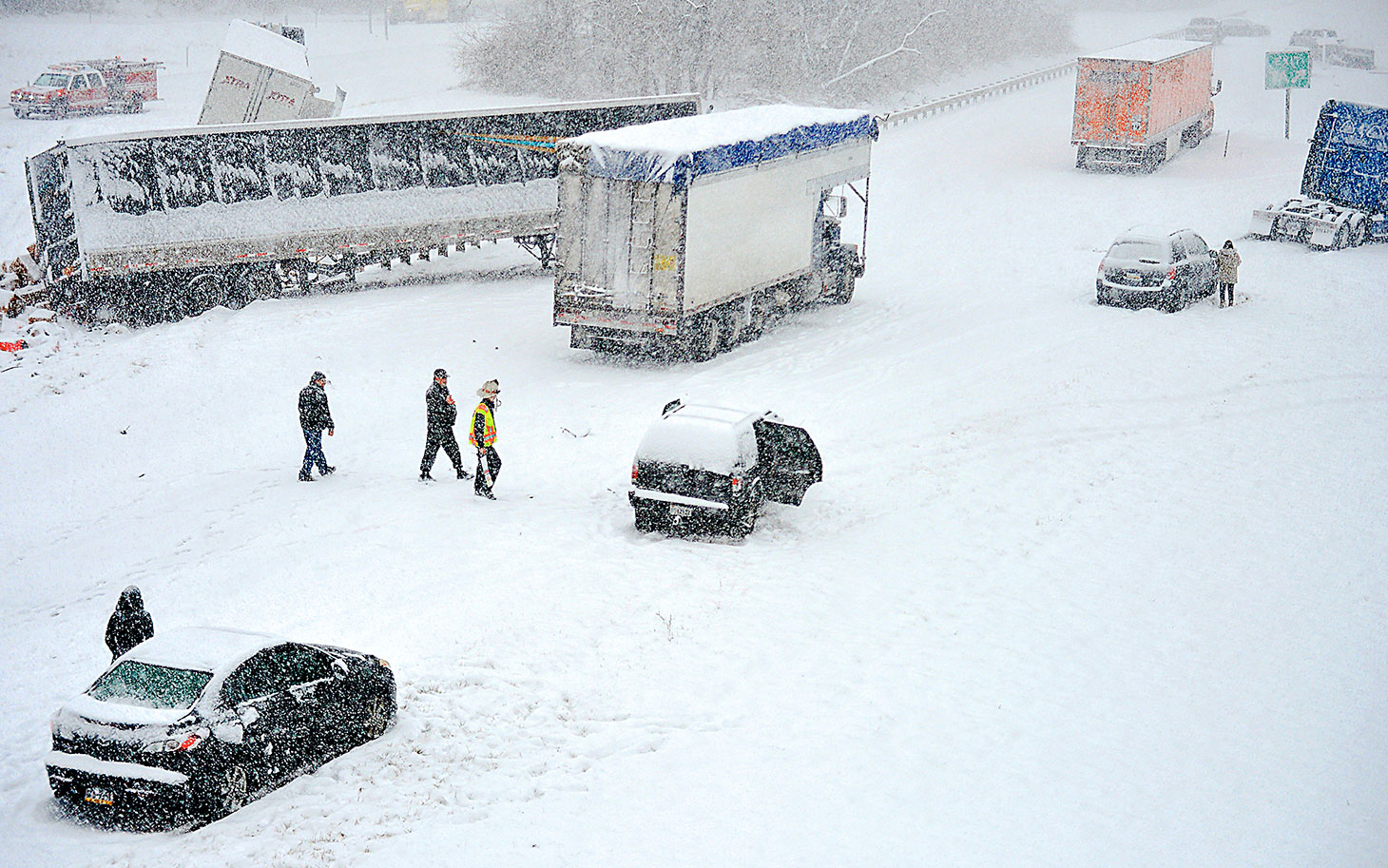 A speedy winter storm that blew through parts of the Great Lakes and East on Tuesday is expected to leave a trail of warmer weather and rain that should provide a respite for residents weary of weeks of bitter cold but also create the potential for flooding and collapsing roofs in some areas.
Clogged storm drains could cause ponding and puddles on roads, and in Ohio the National Weather Service said the combination of melting snow and more rain could cause significant flooding. In Michigan, where several roof collapses have been reported since January, there was concern that rain on top of snow could lead to more.
Temperatures above freezing in places where the storm passed through Tuesday should move up to the 40s to mid-50s for the rest of the week.
Despite the warming and some expected rain on Wednesday and Friday, flooding will not be a concern in New England. They will be back down to normal and below normal temperatures.
The storm brought "thundersnow" to Pittsburgh and areas northeast of the city. Pennsylvania Turnpike officials reduced speed limits along the entire 360-mile highway system but later lifted most of them.
By midday, the weather service said parts of western Pennsylvania had gotten about 6 inches of snow, with 3 inches falling at Philadelphia International Airport and 2 inches outside New York City. The latest storm came days after the Southeast and Northeast were paralyzed with heavy snow, ice and massive power outages.
It was expected to drop 3 to 5 inches of snow on Boston, with 6 to 10 inches forecast for parts of Northern New England, before moving out late Tuesday and early Wednesday. Many schools in Vermont, New Hampshire and Maine canceled for the day or planned early dismissals, and New Hampshire reduced the speed limit on all of its highways to 45 mph.
School cancellations were not an issue in Rhode Island, Connecticut and Massachusetts, where most schools have a February break this week, though the University of Connecticut canceled classes beginning after 2 p.m. at both its Storrs and Greater Hartford campuses.
Last week, about 1.2 million utility customers lost power as the storm marched from the South through the Northeast. Schools, businesses and government offices closed. The storm was blamed for at least 25 deaths stretching from Texas to Maine.