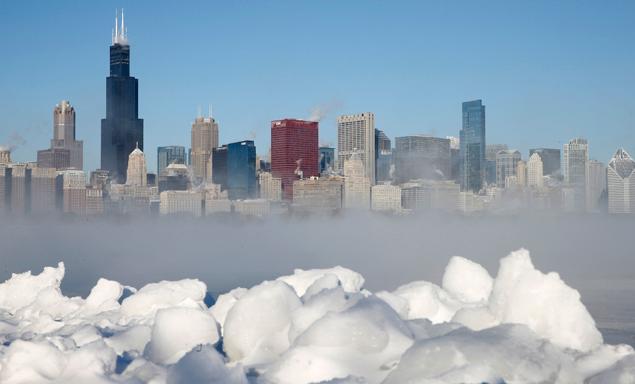 Parts of the US and Canada are braced for potentially record-breaking low temperatures as a blast of arctic air blows across North America.
A winter storm has already blanketed areas of Canada and the north-eastern US with up to 2ft (60cm) of snow.
Some 3,700 flights were cancelled on Monday, on top of thousands grounded over the weekend.
Schools have been closed in several US states and residents urged to stay indoors for their own safety.
The storm and the deep cold have been blamed for 16 deaths in recent days.
New York Governor Andrew Cuomo announced on Monday that parts of major highways would be closed due to the extreme weather
The National Weather Service in Kansas City predicted a low of -22C (-8F) for Monday, shy of the record low for this date of -25C (-13F) set in 1912. But life-threatening wind chills will make it feel much cold.
Temperatures in the north and central US could feel as low as -51C (-60F) with the effect of wind chill, forecasters say.
"The coldest weather in years will be making its presence known from the Upper Midwest to the Mid-Atlantic region for the beginning of the work week," the US National Weather Service said in a statement.
The states of Ohio, South Dakota and Illinois are among those set to be hit. Tennessee and Kentucky are forecast to see several inches of snow.
Illinois Governor Pat Quinn called the storm "one for the record books" on Monday.
The most dangerous cold – cold that can cause frostbite in a minute and death in a matter of hours — hit the Midwest, dragged down as the 'polar vortex' brought frigid air from the Arctic.
Schools, businesses and government offices were closed. Water mains and household pipes froze. Airplanes were grounded, trains were halted and roads and sidewalks became ice rinks.
The town of Embarrass, Minnesota recorded the lowest temperature in the United States Tuesday at a frigid -37 Celsius (-35 Fahrenheit).