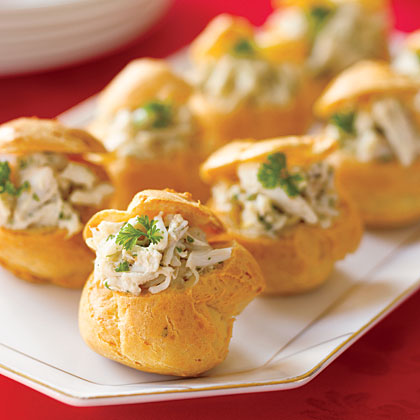 These savory little cheese puffs are great alone, or you can fill them with crabmeat, mushroom filling, or chicken salad. The cost of the filling is not included, but at $0.23 per serving, you've got room to splurge.
Ingredients:
·  3 tablespoons unsalted butter  
·  3/4 teaspoon salt
·  1/2 teaspoon freshly ground pepper
·  1 cup all-purpose flour  
·  4 large eggs  
·  1/2 cup finely shredded Gruyère
·  Crab salad, sautéed mushrooms or other filling, optional
Preheat oven to 400°F. Butter 2 large baking sheets.

Bring 1 cup water, butter, salt and pepper to a boil over medium-high heat. Add flour; beat with a wooden spoon until mixture forms a ball.

Transfer dough to a large bowl. With electric mixer on high speed, add eggs 1 at a time, beating well after each. Beat until mixture is smooth and has cooled. Beat in cheese.

Drop spoonfuls of mixture 1 inch apart on baking sheets. With dampened fingers, smooth tops. Bake until puffed and golden, 25 to 30 minutes. Cool on pans on wire racks. Slice off top third; discard doughy centers. Fill, if desired, and replace tops.