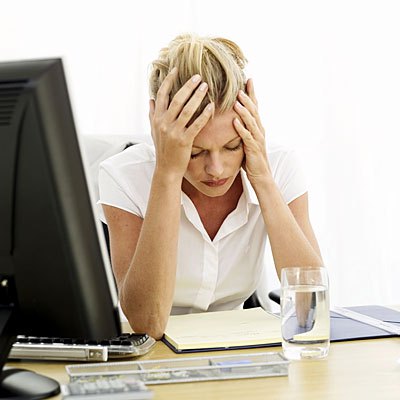 Although female sex hormones and brain chemistry offer some protection from stress, women are more deeply affected by the physical and emotional effects of stress than men.
The effects of the anti-stress hormone oxytocin, produced during childbirth, breastfeeding, and in both sexes during orgasm, are enhanced by estrogen and reduced by testosterone, which helps women more than men. And nurturing activities boost oxytocin levels in women. The catch-22 is that women need more oxytocin than men to maintain their emotional health
According to the American Academy of Family Physicians (AAFP), stress is an expression of the body's natural instinct to protect itself. While this may warn a woman of immediate danger, prolonged stress effects can negatively affect your physical and emotional health.
According to the National Women's Health Information Center, the effects of stress on women's physical and emotional health can range from headaches to irritable bowel syndrome. Specific stress effects include:
Eating disorders.

Anorexia and bulimia are 10 times more common in women than in men. Like depression, this illness has been linked to low levels of serotonin and is often treated with serotonin-boosting antidepressant drugs.

Stomach ailments.

Stress can make you reach for junk or comfort foods, or upset your stomach to the point that you feel like you can't eat. Common stress-related stomach troubles include cramps, bloating, heartburn, and even irritable bowel syndrome (IBS). Depending on how you respond, these can lead to weight loss or weight gain.

Skin reactions.

Stress can lead to breakouts and even itchy rashes and hives in some people.

Emotional conditions.

From being in a blue or irritable mood to more serious mental issues like depression, your emotional health suffers when there's stress in your life.

Sleep problems.

Trouble falling or staying asleep is common in women affected by stress, and this is particularly counterproductive since a good night's sleep can help ease stress.

Concentration difficulty.

Stress makes it hard to focus and be effective in your responsibilities at home or work, and that can compound your problems if your stress comes from your job to begin with.

Heart disease.

The stress of competing in today's job market has increased women's heart disease risk. Stress can negatively affect the entire cardiovascular system, and lead to high blood pressure, stroke, and heart attack.

Lowered immune response.

One of the more complicated physical reactions to stress is your body's lessened ability to fight off disease, whether it's a cold or a flare-up of a chronic condition.

Cancer.

Some studies have suggested a link between stress and the development of breast and ovarian cancer. In one study, researchers found that the risk of breast cancer was increased by 62 percent in women who had experienced more than one highly stressful life event, like divorce or the death of a spouse.
Eating well balanced meal, exercising and find fun ways to relax will help you to reduce the stress in your body!