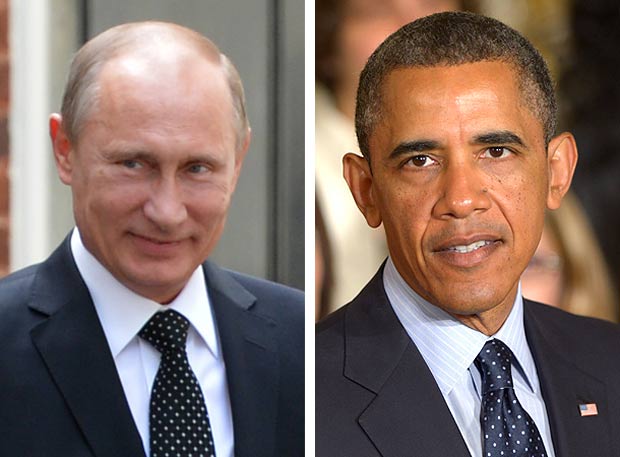 Russian President Vladimir Putin urged President Barack Obama not to rush into a decision on striking Syria, but to consider whether strikes would help end the violence and be worth the civilian casualties they would inevitably cause.
Putin also questioned whether Syrian government troops should be held responsible. He said it would make no sense for them to carry out such a devastating attack while they were on the offensive.
"In such conditions, to give a trump card to those who are calling for foreign military intervention is foolish nonsense," Putin said.
The Russian leader implied the chemical attack came from among the rebels, saying he was convinced it was a provocation carried out by those who wanted to draw in the United States.
If the Americans have evidence to the contrary they should present it to the United Nations inspectors and the U.N. Security Council, he said. "If there is evidence it should be presented," Putin said. "If it is not presented, that means it does not exist."
Putin's foreign policy adviser complained Friday that Russia had not seen the U.S. intelligence that Washington insists proves the role of the Syrian government.
On August 31st. the U.S. ambassador to Russia, Michael McFaul, met with Deputy Foreign Minister Sergei Ryabkov to provide information backing up the U.S. position, the Foreign Ministry said.
In addressing Obama, Putin said he was speaking to him not as the U.S. president but as a holder of the Nobel Peace Prize.
"We have to remember what has happened in the last decades, how many times the United States has been the initiator of armed conflict in different regions of the world," Putin said. "Did this resolve even one problem?"
He urged Obama to reflect on the results of the U.S. military intervention in Afghanistan and Iraq "before taking a decision to carry out air strikes that will bring casualties, including among the civilian population."