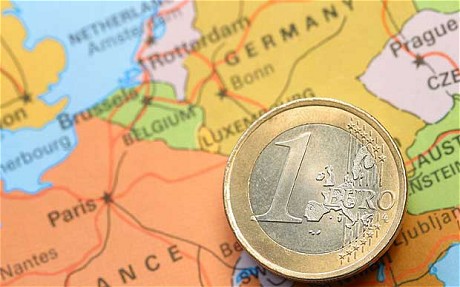 Europe's recession is over, thanks to second-quarter growth in big countries Germany and France and an improvement in some of the smaller ones that have been hit hard by the financial crisis. But the pain is not over as many still have mountains of public debt to pay off and record unemployment. It's also uncertain how long a recovery can be sustained.
GREECE
Greece's economy contracted 4.6 percent in the second quarter compared with a year earlier. While that is slightly less than in the previous quarter, it still leaves the country in an economic hole that some have termed a depression. The official forecast is that growth will only return in 2014, and it will take years before the economy reaches pre-crisis levels.
Greece triggered Europe's debt crisis in October, 2009 when it admitted it had underreported its budget deficit for years. It was the first of the continent's economies to get an international bailout. The policy of spending cuts and tax increases demanded by creditors to cure public finances has reduced the deficit but savaged the economy and society.
Although there's no fixed definition of depression, economist Barry Bosworth at the Brookings Institution says "it's absolutely appropriate to refer to Greece as in a depression."
SPAIN
The economy shrank in the second quarter by 0.1 percent from the quarter before but the contraction was better than the 0.5 percent fall recorded in the first three months of 2013.
The country has been stuck in recession for most of the past four years after its property market collapsed, causing several banks to fail and require bailouts.
Spain looks like it could finally post some quarterly economic growth before the end of the year. Nonetheless, Spain has an unemployment rate of 26.3 percent, which the International Monetary Fund forecasts will only fall slightly over the next two years.
ITALY
Italy's economy shrank by less than expected in the second quarter. The 0.4 percent decline compared with a quarterly rate of 0.6 percent in the first quarter. Italy has also embarked on the austerity path to control its high public debt, which has grown to 130 percent of annual economic output. The economy has contracted for eight straight quarters, a record, and unemployment is at 12 percent.
There are concerns that the government, a broad coalition of parties, will not last long and be too weak to implement the tough economic reforms needed to reduce debt and get the economy growing again.
PORTUGAL
The country returned to growth in the April-June quarter with a robust figure of 1.1 percent from the quarter before, after contracting for 10 straight quarters. Yet the country has a long way to go to reduce unemployment of 17.4 percent and to generate enough growth to repay debts that fall due in coming years.
Portugal needed a bailout in 2011 after a decade of meager growth and mounting debts. The country's creditors expect GDP to contract by 2.3 percent this year before growing 0.6 percent in 2014 and 1.5 percent in 2015.
CYPRUS
The Mediterranean island country needed a bailout this year after its banks collapsed due to losses on defaulted Greek government bonds. A part of deposits at its two largest banks were seized to help pay for the bailout. The banking collapse is expected to contribute to a big drop in investment and spending.
Cyprus' international creditors project that its economy will shrink by a cumulative 13 percent by the end of 2014. Most analysts predict it will be worse.