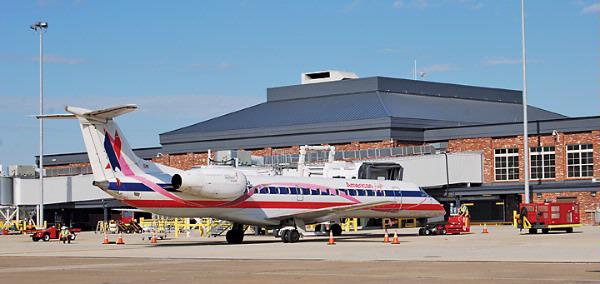 No. 1 provider of aircraft maintenance in North America enters wide-body market with a 6th MRO location
AAR has signed an agreement with the Chennault International Airport Authority to open its 6th North American aircraft Maintenance, Repair and Overhaul (MRO) facility in Lake Charles, Louisiana, at the Chennault International Airport. AAR, the largest independent MRO provider in North America, will occupy approximately 520,000 square feet of MRO service and administrative space at the facility, capable of supporting maintenance operations for all wide-body aircraft, with expansion under way that will accommodate aircraft as large as the Airbus A380.
AAR initially will employ approximately 250 and anticipates hiring an additional 500 at the facility by 2017. The new operation significantly expands AAR's capabilities, enabling the Company to accommodate a greater variety of aircraft and grow its Aviation Services business.
On Friday, AAR Chairman and CEO David P. Storch was joined by Louisiana Gov. Bobby Jindal and representatives from the airport authority and state economic development agency for the formal announcement.
"Today is a great day for Calcasieu Parish and our entire state," said Gov. Jindal. "Chennault continues to be one of the biggest economic drivers in Southwest Louisiana and our entire state. In addition to a world-class workforce and an outstanding business climate, Louisiana offers extraordinary sites like Chennault International Airport that make our state a leader in logistics and infrastructure. All of these resources contribute to Louisiana's economic momentum, and AAR is one of many companies that have taken notice as they continue to invest here, creating more great opportunities for our people."
Commenting on the signing, Storch said: "I want to thank Gov. Jindal, the airport authority and the state's economic development agency for partnering with us and moving swiftly to reach this agreement. We look forward to becoming a vital part of the Louisiana business community and helping to elevate Lake Charles' position as an aviation center of excellence. The new operation builds upon the Company's industry-leading position by adding capability for AAR to expand into the wide-body market."
The facility can accommodate up to seven wide-body or 10 narrow-body aircraft, and construction is under way for an additional 118,000 square feet of space. AAR currently operates a parts logistics and distribution center at Chennault International in support of the U.S. Air Force's KC-10 program as part of a team led by Northrup Grumman.
"Lake Charles is very proud to welcome AAR to Southwest Louisiana and to be a part of its global aerospace network," said Lake Charles Mayor Randy Roach. "This announcement is also great news for the men and women who have worked so hard in recent years to prove to the aviation industry that we can compete in the business of maintaining and repairing airplanes. Our commitment as a city is to build on that track record and do whatever we can to continue to support Chennault as a regional center of aviation excellence."  
"Southwest Louisiana will see increased growth in aviation jobs with today's announcement," said President and CEO George Swift of the Southwest Louisiana Economic Development Alliance. "As we work to diversify our economic base, aviation is a key component and we welcome this potential growth. We welcome AAR CORP. to our region."
"The AAR presence will expand the types and numbers of aircraft that will be worked on at the Chennault facility," said Executive Director Randy Robb of the Chennault International Airport Authority. "Since AAR is the largest aircraft Maintenance, Repair and Overhaul organization in the United States and the third-largest in the world, Chennault anticipates significant growth in both jobs and commerce at the site. AAR selected the Chennault location based upon the fact that the facilities meet their needs and because of the apparent teamwork they observed between the State of Louisiana, Calcasieu Parish, the City of Lake Charles and Chennault."
This expansion strengthens AAR's value proposition for its commercial airline customers by becoming the Company's 6th aircraft repair facility in its nationwide 1MRO Network, joining facilities in Indianapolis, Miami, Oklahoma City, Duluth, Minnesota, and Hot Springs, Arkansas. AAR has become the No. 1 provider of MRO services in North America and one of the top 3 in the world, according to industry rankings.
"We're very excited to begin working with the talented pool of aviation professionals and local suppliers in the region," Storch concluded.
AAR is a global aerospace and defense contractor that employs more than 6,000 people in 17 countries. Based in Wood Dale, Illinois, AAR supports commercial, government and defense customers through two operating segments: Aviation Services and Technology Products. AAR's services include inventory management and parts distribution; aircraft maintenance, repair and overhaul; and expeditionary airlift. AAR's products include cargo systems and containers; mobility systems and shelters; advanced aerostructures; and command and control systems.