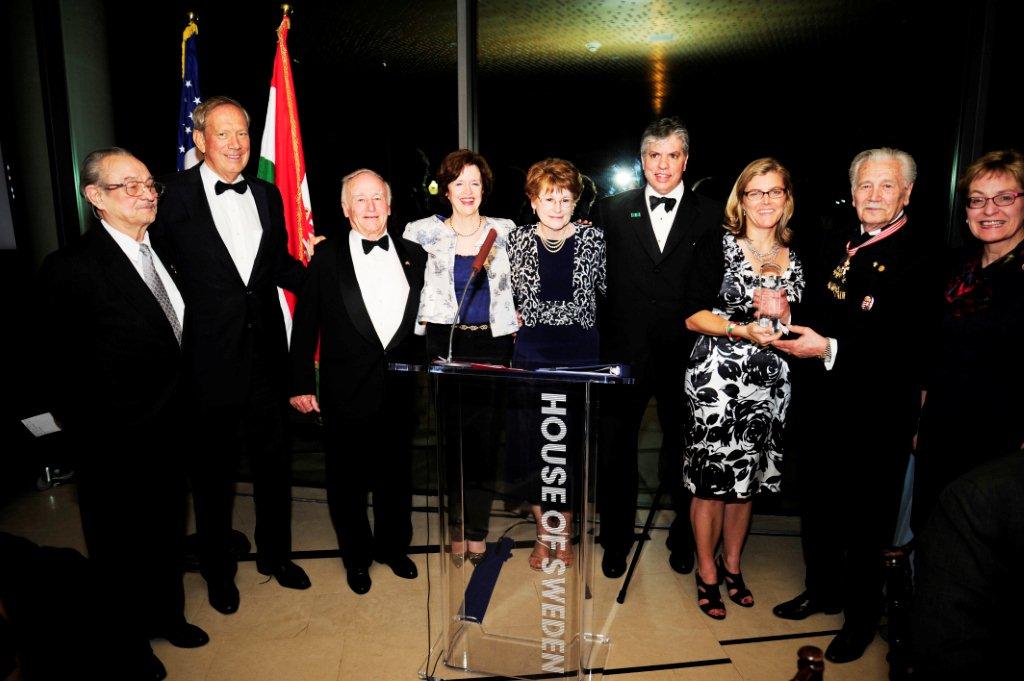 The American Hungarian Coalition ivited me for their annual Gala dinner in Washington D.C.
On May 8, 2013, the Hungarian American Coalition hosted its ninth annual Gala Dinner at the House of Sweden in Washington, D.C., under the patronage of Dr. Tibor Navracsics, Deputy Prime Minister of Hungary.  The honorees at this year's event were John N. Lauer and the Cleveland Hungarian Heritage Society.
Coalition Vice President Andrea Lauer Rice welcomed the distinguished guests attending the event, including Congresswoman Marcy Kaptur; Hon. George Pataki, former Governor of New York; Ambassador George H. Walker, III; Ambassador April H. Foley; Ambassador György Szapáry, Hungarian Ambassador to the United States; Ambassador János Csák, Hungarian Ambassador to the United Kingdom; and Réka Szemerkényi, Chief Foreign and Security Policy Advisor to Hungary's Prime Minister.
Following the dinner, three exceptional Hungarian artists presented a short musical program:  Györgyi Avvakumovits (Soprano), Csaba Szabó (Guitar) and Andreas Magonyi, performing works of Erkel, Schubert and Gounod, along with Italian songs by Gastaldoni and De Curtis.
Dr. Peter Kovalszki introduced the Cleveland Hungarian Heritage Society, recipient of the 2013 Coalition organizational award. Dr. Kovalszki praised the work of the Society, whose volunteers have established a Museum known as the "the heartbeat of Hungarian culture in Northeast Ohio."  The Museum has become the main gathering place for Cleveland Hungarians, hosting many dignitaries, mounting special and permanent exhibits, organizing conferences, maintaining an extensive library and operating a gift shop.
Next on the program was Coalition President Max Teleki, introducing John N. Lauer. But before Teleki began his remarks, 45 members of the University of Maryland's Marching Band surprised and delighted the 146 guests in attendance by marching through the dining hall to salute Mr. Lauer with the University of Maryland fight song. Mr. Teleki then gave a heartfelt laudation to John N. Lauer, this year's individual award recipient, recognizing his many accomplishments, especially his personal commitment to Hungarian education and culture and his steadfast support for the Coalition for the past 20 years.  Prior to the presentation of the awards, short videos on both honorees, prepared by Ms Réka Pigniczky and Mrs. Andrea Lauer Rice, were shown.
"It was an honor to be recognized by HAC and to be paired with John Lauer. The Cleveland Hungarian Heritage Society is proud to be a member of an organization which strategically plans and executes the Hungarian-American connection", said Éva Szabó, President of the Cleveland Hungarian Heritage Society.
Representative Marcy Kaptur (D-OH), whose Congressional district has the largest number of constituents of Hungarian descent, also praised the work of the Society and John Lauer's contribution for the improvement of transatlantic relations.  Congresswoman Kaptur, who along with Representatives Andy Harris (R-MD) and David Joyce (R-OH) recently reconstituted the congressional Hungarian-American Caucus, remarked: "I am glad to be a voice for the strong relationship that exists between the United States and Hungary. By working together, we are able to take on the challenges that face both our countries while we continue to maintain our commitment to freedom, democracy and economic security".
In accepting the award, John N. Lauer said "This was truly a memorable evening for me personally and my fellow Clevelanders of the CHHS.  I am grateful for the presence and support of so many family members and dear friends.  My heartfelt thanks to the Coalition for all they do to promote scholarship and leadership!" 
 Marianna Szoke