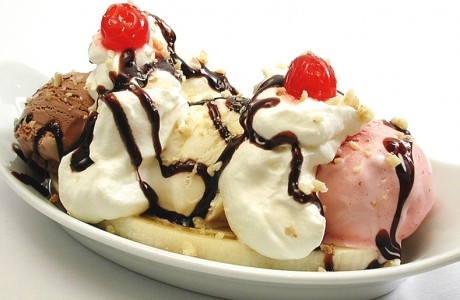 Some people are cooling off with a cone Sunday to celebrate National Ice Cream Day.
In 1984, President Ronald Reagan designated July as National Ice Cream Month and the third Sunday of the month as National Ice Cream Day. He recognized ice cream as a fun and nutritious food that is enjoyed by a full 90 percent of the nation's population. In the proclamation, President Reagan called for all people of the United States to observe these events with "appropriate ceremonies and activities."
The International Ice Cream Association (IICA) encourages retailers and consumers to celebrate July as National Ice Cream Month. In 2013, National Ice Cream Day will be Sunday, July 21.
The U.S. ice cream industry generated total revenues of $10 billion in 2010, with take-home ice cream sales representing the largest section of the market, generating revenues of $6.8 billion or 67.7 percent of the market's overall value. (Source: MarketLine, an Informa business)
About 9 percent of all the milk produced by U.S. dairy farmers is used to produce ice cream, contributing significantly to the economic well-being of the nation's dairy industry.
Founded in 1900, IICA is the trade association for manufacturers and distributors of ice cream and other frozen dessert products. The association's activities range from legislative and regulatory advocacy to market research, education and training. Its 80 member companies manufacture and distribute an estimated 85% of the ice cream and frozen dessert products consumed in the United States. IICA is a constituent organization of IDFA.
Ice cream has a magical quality. One lick of an ice cream cone instantly brings back memories of childhood. Remember when all of life's happiness seemed to rest solely upon the questions "one scoop or two?" and "plain or sugar cone?" Remember the painful ache of a paralyzing brain freeze because you'd eaten your ice cream too fast? How about listening to the rhythmic surge of the ice cream maker while impatiently waiting on the screened-in porch for an adult to pronounce that it was ready?
Ice cream has long mesmerized those requiring refreshment on a blistering hot summer day. There are some foods that have a powerful connection to summer seemingly on a genetic level, and ice cream is one of them.