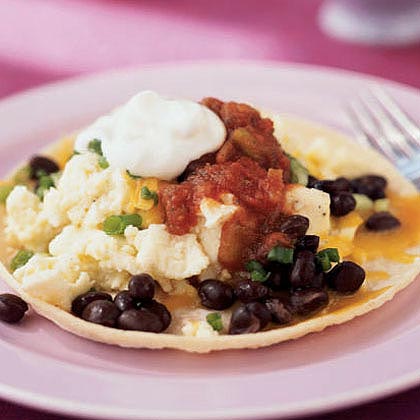 Ingredients:
1/4 cup low-fat milk  
1/4 teaspoon salt
1/8 teaspoon freshly ground black pepper
   4 large egg whites  
   2 large eggs
   4 (6-inch) corn tortillas  
 1/2 cup (2 ounces) shredded reduced-fat sharp cheddar cheese  
   1 cup canned black beans, rinsed and drained
 1/4 cup chopped green onions
 1/2 cup bottled salsa  
 1/4 cup fat-free sour cream
Combine first 5 ingredients in a large microwave-safe dish, stirring with a whisk. Microwave at HIGH for 3 minutes; stir. Microwave an additional 1 minute or until done. Arrange 1 tortilla on each of 4 microwave-safe plates; divide egg mixture evenly among the corn tortillas. Layer each serving with 2 tablespoons cheese, 1/4 cup beans, and 1 tablespoon green onions. Microwave each tostada at HIGH for 30 seconds. Top each tostada with 2 tablespoons salsa and 1 tablespoon sour cream.
Serve immediately and enjoy!