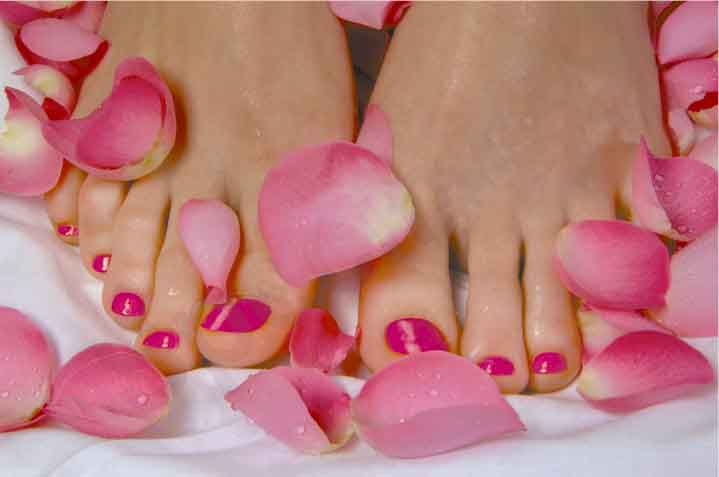 It's the end of your day and as you remove your shoes you are once again met with dry cracked feet. They not only feel scaly and painful, but they also look like you've been walking on razor blades! No matter how rough and callous your feet currently are, this does not have to be the fate of your feet forever. There are some suggestions you can follow to learn how to heal your dry cracked feet and prevent them from drying out in the future.
If your heels are just dry, you can use a pumice stone (less than $2 at the drugstore) to gently scrub off dead and dry skin patched on heels, soles and toes. Don't try to get feet smooth all in one scrub treatment. It is better to use the pumice stone lightly for a few days. You can maintain this smoothness by using the pumice stone a couple time a week in the shower. If your feet are so dry that they have cracked, skip this exfoliating step until the cracks have healed and closed.
The first step for at-home treatment is to wash or soak your feet everyday in warm water and a mild soap. You can add a soothing foot product to help condition your feet if you choose. Be careful not to use the pumice stone too vigorously on your cracked feet as it may make them worse.
Second, you'll need to dry your feet well. Pay close attention to the skin in between the toes. If this area is not dried properly it can create a breeding ground for bacteria and lead to infection. Pat the feet and do not rub harshly or you can cause more damage!
Apply a foot cream, lotion or foot ointment. There are many lotions available offering moisturizers such as Vitamin E, shea butter, aloe and more. These are often helpful for dry, but not severely dry skin. It helps replenish the skin with glycerin and protect the skin with paraffin. These ingredients help to sooth, hydrate and repair the skin tissue of the feet.
There are also home remedies available which are said to soothe. For instance, mixing baby lotion with spearmint and eucalyptus oil is a known remedy. It is said to create a "super lotion" which sooths, heals and smells fresh. Other natural remedy moisturizers include almond oil, avocado oil, jojoba oil and coconut milk. You can try the moisturizer of your choice to see which works best for you.
The fourth step requires you to put on clean, white cotton socks. The cotton helps to whisk away moisture while the colorless material prevents any dyes from irritating the skin. Many people choose to put their socks on at bedtime and wear them overnight for enhanced moisturizing. When you wake up your feet will feel as if you got a spa pedicure overnight!
Finally, be sure to check your feet everyday. Look for cuts or blisters and treat them promptly. Keeping your feet clean and applying moisturizer is an excellent way to care for your feet. You can also insure foot health by eating a diet rich in Vitamin A, which promotes skin health. Foods such as carrots, sweet potatoes, kale, spinach and pumpkin are all excellent sources.