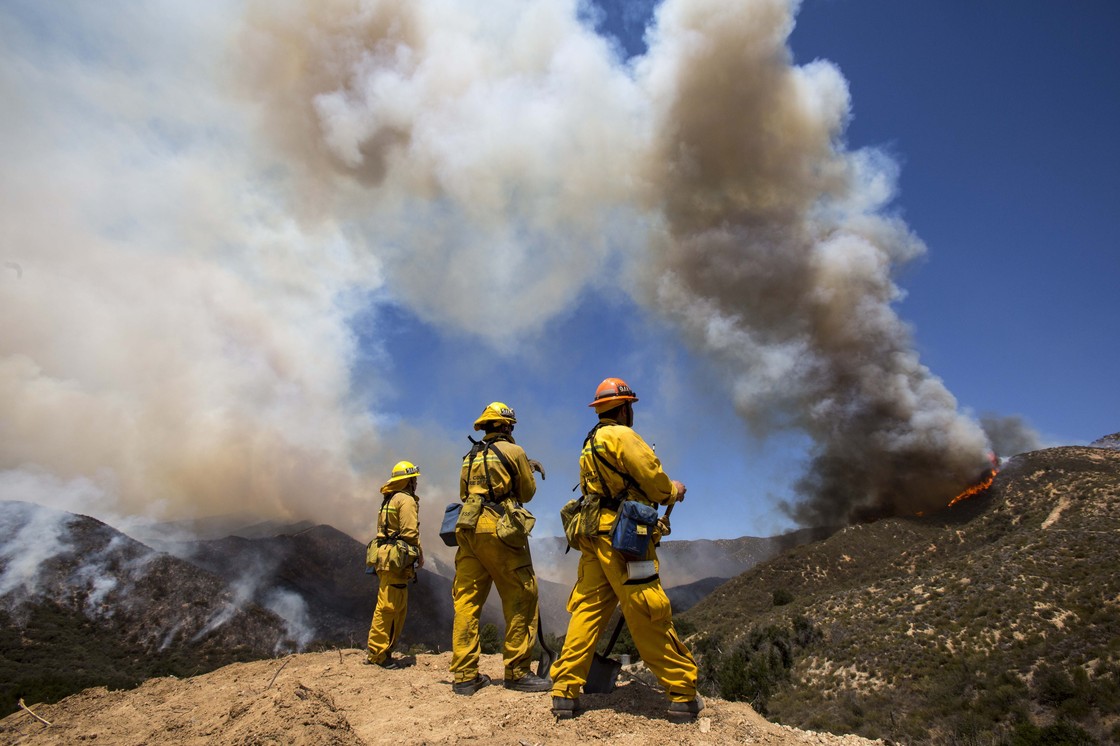 Firefighting teams in California and New Mexico are battling early season wildfires that have blackened thousands of acres and threatened homes and building, spurring numerous evacuations.
Residents of more than 1,000 homes were ordered to leave as erratic winds pushed a wildfire closer to two foothill communities, where officials said five residences were destroyed Saturday.
Meanwhile, an uncontained blaze near Santa Fe, N.M., had spread to nearly 10 square miles by Saturday night, making it apparently the largest of several wildfires burning in the West as it placed the city under a blanket of haze. The thick smoke also covered the Gallinas Canyon and Las Vegas, N.M.
The fire in New Mexico's Santa Fe National Forest is burning just 25 miles from the city, prompting the Red Cross to set up an emergency shelter at a nearby high school.
Officials asked residents in about 140 homes, mainly summer residences, to evacuate as a crew of more than 400 battled the flames near the communities of Pecos and Tres Lagunas.
Crews also cleared out campgrounds and closed trailheads in the area as they worked to prevent the fire from moving toward the capital city's watershed and more populated areas.
The state Department of Health warned residents in the Pecos, Santa Fe and Espanola areas to prepare for smoke and take precautions by avoiding prolonged or physical activity outdoors.
"Potentially unhealthy conditions could occur in these communities overnight and into the early morning," a statement released by health officials said.
Another New Mexico blaze, the Thompson Ridge fire near Jemez Springs, grew to nearly two square miles by Saturday night, state forestry officials said. Between 40 and 50 homes in the area were evacuated as more than 200 crew members and a helicopter were fighting the blaze burning through pine forests and brush.
Forecasters said some rain was possible in both fire areas on Sunday as well as gusty winds.
Elsewhere in the West, fire crews worked to beat several other fires, including one in California and another in southwest Colorado.
North of Los Angeles, the wind shifted in several directions, fanning the fire in the Angeles National Forest to nearly 9 square miles, said U.S. Forest Service spokesman Nathan Judy.
It marched downhill toward Lake Hughes and Lake Elizabeth, west of Lancaster, triggering the evacuation of nearly 1,000 homes, he said.
"It's burning very intensely," he said.
He did not know whether any structures had been burned, but Los Angeles County Fire Inspector Keith Mora told the Los Angeles Times that the blaze has destroyed five homes in the Lake Hughes area.
Daytime temperatures that topped at 105 degrees and the erratic winds worked against the nearly 1,000 firefighters on the line. Judy said the wind pushed the fire up and down steep slopes, creating embers that sparked spot fires in different directions.
In Colorado, Mike Blakeman, a spokesman for the Rio Grande National Forest, said a fire 15 miles southwest of the small town of Creede was reported. No structures have been damaged, but three homes and several outbuildings were threatened Saturday.
/FOX News/