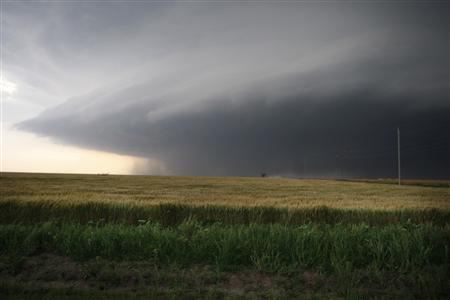 Deadly tornadoes touched down Friday west of Oklahoma City, crumbling cars and tractor trailers, trapping motorists and killing at least two.
The Oklahoma Highway Patrol said troopers found the bodies of a mother and a child near a vehicle along Interstate 40 west of the city. The state medical examiner's office said at least 3 others were killed in Oklahoma City suburbs Friday.
The broad storm hit during the evening rush hour, causing havoc on I-40, a major artery connecting suburbs east and west of the city. Violent weather also moved through the St. Louis area, ripping the roof off a suburban casino.
To the south, winds approaching 80 mph were forecast for Moore, where a top-of-the-scale EF5 tornado killed 24 on May 20. Meanwhile, at least 54,000 people were affected by power outages. The Oklahoma Highway Patrol also reported motorists injured or trapped in their cars in the Oklahoma City area while others were missing.
Tornado warnings were lifted in the region late Friday night.
Earlier in the day, the National Weather Service has issued a tornado emergency for the city's downtown, airport and several suburbs. The weather service issues an emergency if a storm with tornadoes is heading toward large metropolitan area. The warning covered Will Rogers World Airport in Oklahoma City, which was evacuated at 6:30 p.m. while staff and passengers were taken to an underground tunnel until the threat passed, and there were no flights inbound or outbound.
Heavy rain and hail hampered rescue efforts in Oklahoma City. Frequent lightning roiled the skies well after the main threat had moved east. Highways and streets were clogged late into the night as motorists worked their way around flooded portions of the city.
Emergency officials reported that numerous injuries occurred in the area along I-40, and Randolph said there were toppled and wrecked cars littering the area. Troopers requested a number of ambulances at I-40 near Yukon, west of Oklahoma City.
Standing water was several feet deep, and in some places it looked more like a hurricane had passed through than a tornado.
In Missouri, gamblers rushed from the floor of the Hollywood Casino in the St. Louis suburb of Maryland Heights as a storm ripped off its roof. Trees and power lines were also down, and more than 40,000 people lost power.
In Oklahoma, storm chasers with cameras in their cars transmitted video showing a number of funnels dropping from the supercell thunderstorm as it passed south of El Reno and into Oklahoma City just south of downtown. Police urged motorists to leave I-40 and seek a safe place.
Television cameras showed debris falling from the sky west of Oklahoma City and power transformers being knocked out by high winds across a wider area.
Friday evening's weather came after flash flooding and tornadoes killed three people in Arkansas late Thursday and early Friday. Three others were missing in floods that followed 6 inches of rain in the rugged Ouachita Mountains near Y City, 125 miles west of Little Rock.
This spring's tornado season got a late start, with unusually cool weather keeping funnel clouds at bay until mid-May. The season usually starts in March and then ramps up for the next couple of months.

/FOX News/