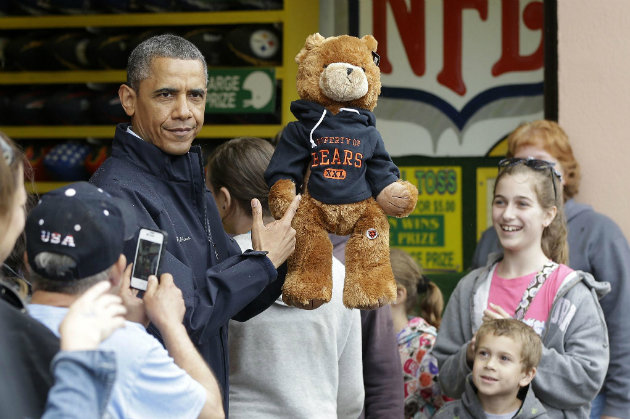 They smiled, they chuckled—and there was even a man hug or two.
On Tuesday, President Barack Obama rekindled his unlikely bromance with New Jersey Gov. Chris Christie as the two went before the cameras to tout continuing recovery along the Jersey shore in the aftermath of Superstorm Sandy.
It was a photo-op meant to help draw visitors to New Jersey's beach towns, which desperately need tourism dollars as they continue to rebuild after Sandy destroyed boardwalks and shorelines when it came ashore last October. But even Obama couldn't ignore the political optics of the trip, which comes as Christie, a Republican, ramps up his bid for a second term in one of the most heavily Democratic states in the country.
On Tuesday, the political odd couple made an unscheduled stop at the boardwalk along Point Pleasant Beach—one of the areas most devastated by Sandy. Together, they played Touch Down Fever, a game where participants try to win by throwing a football through a tire. According to a pool report, Obama took aim but missed his target several times. When it was his turn, Christie made the shot on his first and only try.
"That's because he's running for office," Obama declared, giving Christie a friendly high-five that ended with him clasping the GOP governor's hand.
But Obama didn't walk away empty-handed. The man running the game gave the president a stuffed bear wearing a tiny Chicago Bears jersey—immediately prompting Twitter jokes among Washington media types that Christie had won the bear for Obama, though it appeared he was simply given the bear as a consolation prize.
It was a moment that couldn't have been more helpfully scripted for Christie's re-election campaign, which has cast the governor as someone willing to buck his own party for the greater good of his state. That image has made Christie appear virtually unbeatable heading into the summer. He leads his closest opponent, Democratic state Sen. Barbara Buono, by 32 points, according to a recent NBC News / Marist poll.  Christie's campaign isn't taking any chances. Earlier this month, Christie began running ads outing his record and mentioning Buono by name. She, in turn, launched a $1 million ad campaign taking aim at Christie's record.
But it's hard not to imagine how a photo-op with a popular Democratic president doesn't undermine Buono's message—which is probably why Christie was smiling so much during his time with Obama Tuesday.
/Yahoo! News/