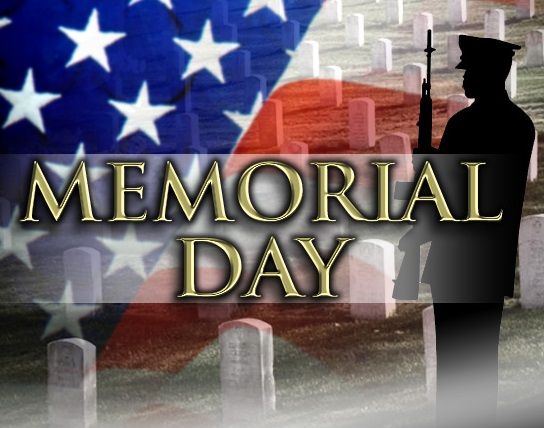 Memorial Day is a United States federal holiday which occurs every year on the final Monday of May, this year it is on May 27th.  Memorial Day is a day of remembering the men and women who died while serving in the United States Armed Forces.
Formerly known as Decoration Day, it originated after the American Civil War to commemorate the union and confiderence soldiers who died in the Civil War. By the 20th century, Memorial Day had been extended to honor all Americans who have died while in the military service.
While Waterloo N.Y. was officially declared the birthplace of Memorial Day by President Lyndon Johnson in May 1966, it's difficult to prove conclusively the origins of the day. It is more likely that it had many separate beginnings; each of those towns and every planned or spontaneous gathering of people to honor the war dead in the 1860's tapped into the general human need to honor our dead, each contributed honorably to the growing movement that culminated in Gen Logan giving his official proclamation in 1868. It is not important who was the very first, what is important is that Memorial Day was established. Memorial Day is not about division. It is about reconciliation; it is about coming together to honor those who gave their all.
Memorial Day was officially proclaimed on 5 May 1868 by General John Logan, national commander of the Grand Army of the Republic. The first state to officially recognize the holiday was New York in 1873. By 1890 it was recognized by all of the northern states. The South refused to acknowledge the day, honoring their dead on separate days until after World War I (when the holiday changed from honoring just those who died fighting in the Civil War to honoring Americans who died fighting in any war). It is now celebrated in almost every State on the last Monday in May (passed by Congress with the National Holiday Act of 1971  to ensure a three day weekend for Federal holidays), though several southern states have an additional separate day for honoring the Confederate war dead.
On this day, people are going to the parades and commemoration ceremonies. The President and the Vice Presidenct of the United States is going to the Arlington cemetery to give a speach.
However americans celebrate their heroes, this day is not just about the war victims.
This day is also the beginning of the summer and many americans take a long weekend getaway and visit a hotel, the beach or are going to the mountains. Some of them are staying at their friends' s houses and celebrate this day with a house party.
Marianna Szoke
Las Vegas, NV